Kupariteippi copper shielding tape (kuparifolioteippi) 1m, leveys 30mm
Startsidan > Gitarrdelar gitarrtillbehör Instrumentbygge tillbehör > Gitarrdelar gitarrtillbehör OL / SPG / Boston > Pickup delar
Tuote 103405. Kupariteippi copper shielding tape (kuparifolioteippi) 1m, leveys 30mm. Kupariteippi (kuparifolioteippi), leveys 30 mm, teippejä myydään metreittäin. Kitaroiden pleksilevyjen taakse häiriösuojaukseen. Kitaramikrofonien suojauksiin, RF-suojaukseen, antennien ja maatasojen tekoon, kelojen tekoon jne. Ei johtava liima. Katso myös sähköä johtava maali sivuiltamme.
Coppertape, copper shielding tape non conductive adhesive backing. Sold as 1 m. Width 30 mm, with non conductive adhesive backing.
This also helps many times to reduce the hum, buzz and other interferences from electronics such as now very common problems that comes from those small energy saving switched power supplies which are used for small effect boxes etc ...
Katso myös
Tuote SSH20256. Elektriskt ledande lack Graphit 33 spray. Tämä spray soveltuu monenlaisten häiriösuojauksien tekemisiin esim. muovikoteloiden sisäpinnat, kitaran sisustat...
Kupariteippi maadoituksien tekemiseen, RF -suojaukseen jne ...
Monisäikeistä laadukasta pushback vintagelankaa !!!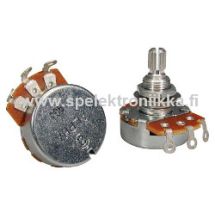 Tuote 114173. ALPHA 24mm kitarapotentiometri bushing 8mm ALP250kA41/log millikoko. HUOM !!! Mukana 2 mutteria + prikka helpottamaan pleksiin asennusta. Merkintä B...
Monisäikeistä laadukasta pushback vintagelankaa !!!
Tuote 103194. Otelautaudan sivumerkki 2 mm, white SIVUM20W. Otelaudan sivumerkit muovia. Fretboard side dot materials plastic. Length approx. 50 mm (1.969"). Dia. approx. 1.5...
Tuote 114902. Hihnanuppipari HN6916 kromi 2kpl ja ruuvit mukana. Korkeus 10mm, ulkohalkaisija n. 14mm. OL -guitarparts.