MAX1760EUB pintaliitos step up 3.3V DC/DC SMD 10 pin uMAX kotelo
Main Page > Electronic components etc ... > Aktiivikomponentit, IC -piirit, transist > Regulaattorit jalalliset ja pintaliitos > Regulaattorit positiiviset kiinteäjännit
Tuote 114008. MAX1760EUB MAX1760 pintaliitos step up 3.3V 0.8A or adjustable DC/DC SMD 10 pin uMAX kotelo.
- Digital Cordless Phones
- PCS Phones
- Wireless Handsets
- Handheld Instruments
- Palmtop Computers
- Personal Communicators
- Two-Way Pagers
Up to 94% Efficiency
0.7V to 5.5V Input Range
Up to 800mA Output
Fixed 3.3V Output (or Adjustable from 2.5V to 5.5V)
PWM Synchronous-Rectified Topology
Low-Noise, Constant-Frequency Operation (1MHz)
0.1 uA Logic-Controlled Shutdown
Synchronizable Switching Frequency
Adjustable Current Limit
Adjustable Soft-Start
10-Pin uMAX Package
See also
Tuote 112094. MAX649CPA 5V High Efficiency Step Down DC/DC Converter DIP-8 kotelo.

- Green...
Tuote 108580. 2N3904 60V 0.2A 0.625W TO-92.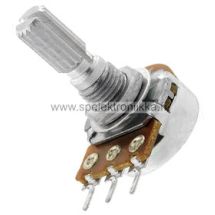 Tuote 107056. Monopotentiometri 5 kohm lineaarinen, metallia. Booritettu akseli 6mm, tehonkesto 100mW, jännitekesto 20VDC tai 150 VAC, rungon halkaisija n. 17 mm, paksuus...
Tuote 108952. Poranterä "tavallinen" HSS 0.8 mm.

Tuote 105459. Pintaliitos vastuslajitelma SMD VASTUSPUUHAPUSSI 1206 kotelo. !!! NYT SAATAVISSA !!!
SMD...
Tuote 113848. Regulaattori 78L05 5V 100 mA TO-92 kotelo.
Tuote 110574. SMD trimmeri Bourns 3314J -sarjaa 200 ohm. Metalliyläosa.
Tuote 110478. 2N3906 40V 0.2A 0.6W PNP TO-92.
Tuote 110825. BB207 tuning.