Tuote 111415. Modular liitin 8/8 (RJ-45) suojattu CAT5 kaapelille.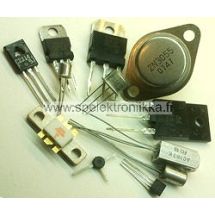 Tuote 108584. 2N4921 40V 1A 30W low saturation TO-126.
Tuote 114812. "Väriävaihtava" metallinhohtoinen kirkkaan vihreä teippi, näin kait tästä täytyy sanoa. Hieman...
Product SZP22491. Zap-A-Gap Medium Quick adhesive CA Microtip. Easy to apply with a brush on the cap. The thinner the layer the faster...
Tuote 102976. Grafiittisatula 6 -kieliselle kitaralle. Graphite pre slotted saddle to 6 -string guitar. Kaareva ja viistottu, curved...
Tuote 108891. 2N3771 50V 30A 150W TO-3.
Tuote 114866. Laitekotelo musta muovia BOX 331B. Koko n. 40 x 58 x 123 mm (sisämitat), ulkomitat n. 43 x 63 x 127mm. Korttiurat sisällä. Kannen...
Tuote 109961. Färgpulver som du kan blanda med lim för att tillverka dina egna mormyskor eller limkrokar GULD...
Tuote 100184. Cool White 5mm LED, viidellä chipillä, max. 100 000 mcd, 100mA, 40 asteen kulmalla, kynnysjännite n. 3.0 - 3.6V. "Kauhistuttavan...