Central locking motor central locking door motor gun model servo
Main Page > Electronic components etc ... > Solenoidit, sähkömagneetit, moottorit .. > Muita moottoreita ja pärryyttimiä ...
Product 103582. Central locking motor central locking door motor gun model 12V two-wire slave. Motor (servo) for central locking systems, "gun" type universal model. Two-wire slave. Strong. Pull / push length max. 22 mm (rod movement). The control mechanics and transmission allow up to 50,000 operating cycles. Splash-proof. Operating temperature range -20º C… + 70º C. For 12 V systems, dimensions approx. 30 x 63 x 104 mm + maximum movement rod projection 45 mm. Traction current <6A.
By changing the polarity, the direction of movement of the rod can be changed. This servo has the motor gearbox "on" at all times, meaning the rod is never completely "neutral". The motor must not be switched on for more than 10 s continuously. (The motor "twists" all the time when the electricity is connected). Perforated fixing iron pit included with the package. 23 cm, handlebar 25 cm, fastening screws. Suitable for many other controls where you need to make the latch, valve, lock, etc. move with electric control. For other applications, the necessary counterforce can be applied to the spring, for example. Holding force up to 4 - 5 kg.
Below is a close-up of the control mechanics.
See also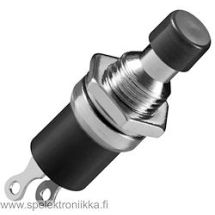 Tuote 103134. Painike, painokytkin, (pienoispainonappi) sulkeva toiminta, palautuva (ei lukkiutuva), musta 1 x OFF-ON (mom), varustettu metallikauluksella joka nousee painikkeen...
Tuote 101077. Jousilajitelma jousipuuhis Malli 1, sisältää veto ja työntöjousia kutakuinkin 200 kpl.

Sisältö pdf...
Tuote 114834. UF5408 1000V 3A 75ns 1N5408. Kuten 1N5408 mutta paljon nopeampi.
Tuote 110984. Optoerotin 4N35.
Tuote 115344. Mikrokytkin MSW013 vipu 55 mm 10(3) A 250VAC 1 x vaihto. Abikot 4.8 mm. Ei hyväksyntämerkintöjä. Väri voi olla myös joku muu kuin kuvassa oleva.
Tuote 104198. "Nyljäytyneen" huonokantaisen ruuvin irrotus teräsetti, eli kärki "ottaa" kun pyöritetään vastapäivään. Terä 1, merkintä #1 (no. 6+8), 4.6 mm. Terä 2, merkintä #2...