ALPHA split shaft 500kB lin Push Pull potentiometri kytkimellä ALPP500-B53/lin
Startsidan > Gitarrdelar gitarrtillbehör Instrumentbygge tillbehör > Gitarrdelar gitarrtillbehör OL / SPG / Boston > Potar > ALPHA potentiometrit kitaroihin
Tuote 109740. ALPHA Push Pull lineaarinen potentiometri kytkimellä ALPP500-B53/lin. Laadukas ALPHA Push Pull kytkin, ensiasennuspotikka monilla kitaramerkeillä. Tuumajako akselin hammastuksessa, "push to fit" nuppejamme joutuu "modaamaan" asennusvaiheessa eri hammastusjaon vuoksi. Kaikki ruuvikiinnitteiset nuppimme sopivat. Varastoimme myös joitakin menevimpiä malleja tuumajakoisia nuppeja.
CTS is (and has been since the 50's) a factory standard for most USA brands like Fender and Gibson. Alpha is a good alternative, nowadays used as a factory standard by Ibanez, Epiphone and Squier.
Push-pull 500K linear potentiometer, standard length bushing .375", 3/8" diameter, made in Taiwan.
Katso myös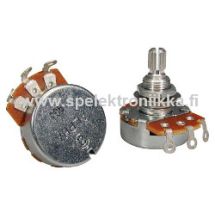 Tuote 114175. ALPHA 24mm kitarapotentiometri bushing 8mm ALP500kA43/log millikoko. HUOM !!! Mukana 2 mutteria + prikka helpottamaan pleksiin asennusta. Merkintä B...
Tuote 107456. Jakkilevy, ovaali syvennyksellä JAKLE1CR kromi. Jackplate for guitars. Oval recessed. Screw holes 2 x flat or oval head dia. 3.5 mm (0.138"). Jack hole...
Tuote 114107. Kieltenohjain, pit. 45.2mm, kiinnitysväli 30.0 mm, reiät 2.40 mm. Ruuvit mukana. Tension bar, length 1.78", hole spacing 1.181", hole dia. 0.094".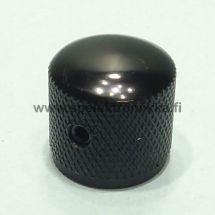 Tuote SLM20567. Metallinuppi black 18 x 18.5 FDNUPBK ruuvikiinnitys. Full Dome, ruuvikiinnitys, ruuvi on kuusiokanta tai talttapää, riippuen nupin mallista. Jos kuusio...
Tuote 109739. ALPHA Push Pull audio potentiometri kytkimellä ALPP500-A52/log. Laadukas ALPHA Push Pull kytkin, ensiasennuspotikka monilla kitaramerkeillä. Tuumajako...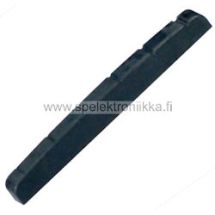 Tuote 102975. Grafiittisatula NTC5 6 -kieliselle kitaralle musta. Graphite pre slotted saddle to 6 -string guitar. Kaareva ja viistottu, curved and obliqued,
41.5...
Tuote 107911. Stereorunkojakki stereorunko 6.3mm Stereometal63. Ei kytkintä. Kierteet sopii mm. Tele jakkikuppiin JAKLE 7 JAKLE7.
Tällä potikalla on se hieman pidempi kierrepituus 0.375".