CTS 24mm short bushing pleksiin 250k log solid saft ei halkaistu akseli
Startsidan > Gitarrdelar gitarrtillbehör Instrumentbygge tillbehör > Gitarrdelar gitarrtillbehör Boston / SPG > Potar > CTS potentiometrit kitaroihin
Tuote 115203. CTS 24mm short bushing pleksiin 250k log solid saft ei halkaistu akseli. Aidot CTS -potikat, kiinteällä ei uritetulla metallivarrella. Tuumakoko akselissa. Kaikki ruuvikiinnitteiset nuppimme sopivat. Varastoimme myös joitakin menevimpiä malleja tuumajakoisia nuppeja.
Genuine CTS pots, with split metal shaft for guitars. Short bushing .250", 3/8" diam. USA style dished back, pickguard mount.
Katso myös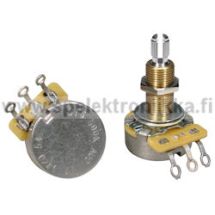 Tuote 101954. CTS 500k A audiopotentiometri pitkä LP -malli Made in USA. CTS -audiopotentiometri 500k pitkällä kierreosalla, ns. LP...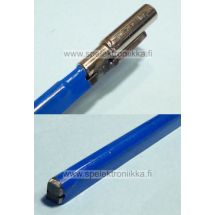 Tuote 104670. Dragstång Truss Rod Two way, n. 620 mm, TRUSSROD620/2012. Trussiraudan päässä on sisällä 4 mm kuusio pää, tällä ratkaisulla ei trussiraudan pään...
Produkt 115380. Straplock system, med skruvar, krom SP1101CR. Aktiviteter som Schaller och Boston. Det nyaste alternativet till dessa stilar gör därför logotyperna billigare. Flänsdiameter...
Tuote 103176. Koriste "reuna" nauha, reunalista, binding material. ABS. Mitat noin mittoja. Cream, 1.5 mm x 6 mm x 1600 mm, (0.059x0.24x63").
Tuote 108097. Keraaminen kondensaattori 47nF 200V N150.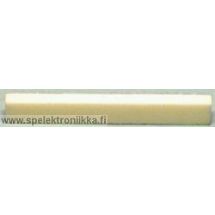 Tuote 113360. Kitaran satula aihio, luu koko n. 42x6x3.4mm BNK-14 Hosco.
Tuote 102428. PB -tyylinen basson kontrollipaneeli. PB -style bass control plate. Screw holes 5 x flat or oval head, dia. 3.4 mm (0.134"), pot holes dia. 8.5mm (0.335"), sw...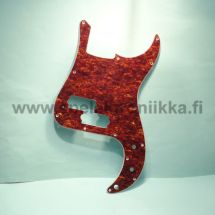 Tuote 105477. PB -tyylinen pleksi Tortoise /White/Black/White PB24T/W/B/W 4PLY. Kuvat suuntaa-antavia, värisävyt eivät toistu useinkaan tietokoneen näytöllä sellaisina...
Tuote 114656. Bassokitaran talla Schaller 12130800 3D-4 Vintage Copper. Flatmount bridge with adjustable height, intonation and string spacing (roller bridge saddles). Mittakuva...