Condenser microphone electret microphone capsule a good quality electret microphone capsule WM-034CY + filter capacitor
Main Page > Arduinot ja moduulit
Product 109907. Condenser microphone electret microphone capsule WM-034CY (EK1). A good quality electret microphone capsule WM-034CY + filter capacitor at the output, removing the filter capacitor frequency response is as shown and is then perfectly suited for music playback, (if only in speech mode leave the hook). The value of the front resistor can be 2.2k - 10k, depending on the operating voltage, eg 9VDC with a voltage of 8.2 - 10k, 4.5V then 2.2k, DC separation capacitor 100nF - 2.2uF. Suitable for speech and music playback. Sensitivity -42dB +/- 3dB if 4.5V / 2.2k. Diameter 9.7mm height 6.7mm.
Microcapsule frequency response and other images larger.
See also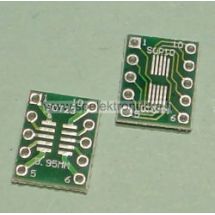 Tuote 113510. Pintaliitosadapteri SOT23 SOP10 ym ... Tähän levyyn saa sopimaan monenlaiset pienet SMD kotelot. Toisella puolella eri padit, monikäyttöinen adapteri jos...
Tuote SGD323824. GY-61 ADXL335 Module 3-axis Digital Gravity Angle Sensor Tilt Angle Module. Arduino ihmisille. Käyttöjännite 3 - 5VDC, analogiset lähdöt. Lue takuuehdot.
Tuote 113512. Pintaliitosadapteri SO8 SSOP8 ym ... Toisella puolella eri padit, monikäyttöinen adapteri jos täytyy saada pintaliitoskomponentti "jalalliseen" käyttöön. Läpikuparoidut...
Tuote 103562. Robotic motor gear motor arduino, mini plastic gearmotor type SPB-02220176-D01R 1: 220 gearbox, "two axles", shaft...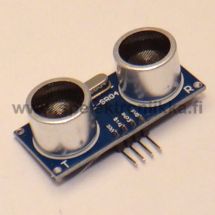 Tuote SLT22165. Ultraäänianturi HC-SR04 Arduino tai joku muu ohjaus.
Tuote 114888. Moninapaliittimistä tehty hyppylanka jumpperipiuha naaras/naaras 20cm. Johdon väri satunnaisesti mitä sattuu. Koekytkentälevyihin jne ... Hyppylanka koekytkentälevylle.