GY-61 ADXL335 Module 3-axis Digital Gravity Angle Sensor Tilt Angle Module GY61
Main Page > Arduinot moduulit jne ...
Tuote SGD323824. GY-61 ADXL335 Module 3-axis Digital Gravity Angle Sensor Tilt Angle Module. Arduino ihmisille. Käyttöjännite 3 - 5VDC, analogiset lähdöt. Lue takuuehdot.
Moduuli on tehdas uusi ja se toimii myytäessä eli luonnollisestikkaan minkäänlaista takuuta tällaisilla ei ole koska näitä saa rikottua hyvinkin vähäisellä väärällä käytöllä tai käyttöyrityksellä.
Käytä aina antistaattisia työvälineitä ja maadoitusranneketta.
See also
Tuote 114882. Moninapaliittimistä tehty hyppylanka jumpperipiuha uros/uros 20cm. Johdon väri satunnaisesti mitä sattuu. Koekytkentälevyihin jne ... Hyppylanka koekytkentälevylle.
Tuote 113276. 74HC04 piiri DIP jalallinen hex inverter.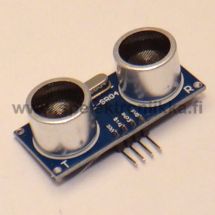 Tuote SLT22165. Ultraäänianturi ultraääni etäisyysanturi HC-SR04 Arduino tai joku muu ohjaus. Katso myös kiinnityskehys Tuote SKH24229. You tubessa vaikkapa tämmöinen...
Tuote 101829. Breadboard Koekytkentäalusta koekytkentälevy 270 kytkentäpistettä. Koko n. 50 x 90 mm. Paino n. 45g. Alapuolella tarra. Kulmissa kiinnitysreiät jos...
Tuote 105768. Punainen 7 -segmenttinäyttö yhteisanodi (C.A.) 14.2mm. Varastossa oleva tyyppi jokin seuraavista SA56 / HDSP5301 / W1561A. Ulkomitat 12.7 x 19 mm. IC...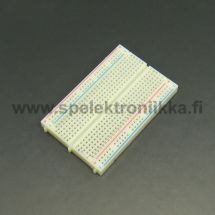 Tuote SKK23388. Koekytkentäalusta koekytkentälevy 400 kytkentäpistettä. Koekytkentäalusta elektroniikan koekytkentöihin. 400 kytkentäpistettä. Koko n. 55 x...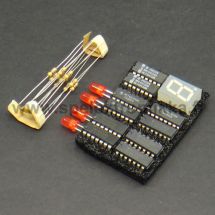 The product SDG243129. Digital set model 1. The bag contains the following components: 7 x 106370-7791 - 470 ohm 5% resistor
4...
Tuote 113311. 74HC163 piiri DIP jalallinen synchronous 4-bit binary counter with synchronous clear.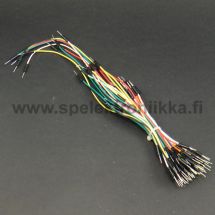 Product 114890. Assortment of jumping wires jumping wires for test circuit board Multicolored jumping wires of different colors for the test connection base approx. 65...