Hotrail mini Humbucker OL® OLMH-1704 black white black singlemikin kokoinen
Main Page > Parts for musical instruments > Machineheads and other parts OL / SPG / Boston > Guitar pickups
Tuote 111426. Hotrail mini Humbucker OL® OLMH-1704 black white black singlemikin kokoinen. Bladet mustat, bobbin yläosa valkoinen. Nykyaikainen piirilevypohja. Sarjaan käämityt mikit, kaikki johdot esillä, voit vaihtokytkimellä muokata soundia jos haluat.  Jouset + 2 kpl jousien ruuveja. Mitattu DC-resistance n. 12 k, inductance 14.3 H.
RED = "HOT"
Bare wire = GND to pickup metal chassis
BLACK = "COLD" to pickup metal chassis
GREEN / WHITE = "CENTER"
Kitaramikrofonin resonanssitaajuus vaikuttaa suuresti mikrofonin välittämään ääneen ja sävyyn. Pystyt vaikuttamaan resonanssitaajuuteen monipuolisimmin kun kytket tonepotikan paikalle kiertokytkimen, missä on eriarvoisia kondensaattoreita. Arvot välillä esim. 220 pF - 2.2 nF. Näin saat aikaan todellisen "vintage" viritelmän ja kitarasi soundimaailma muuttuu huomattavasti. Kytkis löytyy nettisivuiltamme. Samaan asiaan vaikuttaa myös kaapelien kapasitanssit jne... Aktiivimikit ovat "tunteettomia" ko. asioille, siksi niiden välittämä sointi on aina "kutakuinkin" sa-
manlainen riippumatta piuhojen pituuksista tai vahvistimien input impedansseista. Kuvastomme mikrofonit valmistetaan pääasiassa Japanissa ja Koreassa, niitä myydään ympäri maailman myös eri tuotemerkeillä ja tyypeillä. Mikrofonit ovat saaneet erittäin hyvää palautetta rakentelijoilta.
Mikrofonien suhteellinen vahvistus ja resonanssitaajuus on mitattu 500 kohm / 680 pF kuormaan (ellei valmistaja ole antanut tietoja), joka on todellisuudessa kutakuinkin potikka + 6 m suojattu kaapeli. Tällainen mittaustapa on yleinen mikrofonivalmistajien keskuudessa, tosin vain harvat ilmoittavat niitä tuloksia. Impedanssi resonanssitaajuudelle voidaan laskea kaavalla 2 x 3.14 x f x L = Z (ohm). f = hertseinä, L = henryinä. Mitatut arvot ovat tyypillisiä ko. tuotteille. Humbuckerit on mitattu sarjaan käämityillä keloilla. Mini humbuckereita ei ole mitattu niiden valmistustekniikasta johtuen. (Metallikuori pitäisi irrottaa ja tällöin käämin vioittumisriski on erittäin suuri).
See also
Aito ALPHA ei klooni kuten nuo vihreät...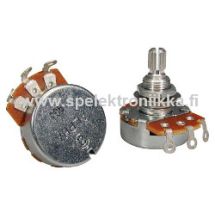 Tuote 114176. ALPHA 24mm kitarapotentiometri bushing 8mm ALP500kB44/lin millikoko. HUOM !!! Mukana 2 mutteria + prikka helpottamaan pleksiin asennusta. Merkintä B...
Tuote 108586. Kaulan kiinnityslevy, nikkeli 51 x 64 mm, KAULE1NI. Neck joint plates. Laadukas, hyväpinnoitteinen ja tukeva Boston Musical Products. Kaulalevy. Screw holes...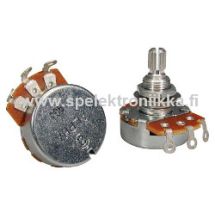 Tuote 114173. ALPHA 24mm kitarapotentiometri bushing 8mm ALP250kA41/log millikoko. HUOM !!! Mukana 2 mutteria + prikka helpottamaan pleksiin asennusta. Merkintä B...
Tuote 114190. Piirilevyteline piirilevyn pidin juotostöihin levyn maksimikoko n. 140 x 220mm. Pieni kätevä oivallinen apuväline kun joudut pyörittelemään piirilevyä huollossa, koonnassa...
Tuote 109808. Ultra 24mm logaritminen kitarapotentiometri A250k/24/10/log. "Ultra made in Korea", potentiometrit kitaroille ja vahvistimille. A...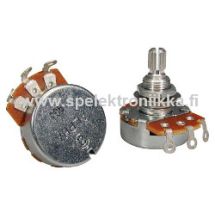 Tuote 114175. ALPHA 24mm kitarapotentiometri bushing 8mm ALP500kA43/log millikoko. HUOM !!! Mukana 2 mutteria + prikka helpottamaan pleksiin asennusta. Merkintä B...