Precision Bass bobbin for 4 string 1 pc
Main Page > Parts for musical instruments > Machineheads and other parts OL / SPG / Boston > Pickup building parts
Tuote SPR21367. Precision Bass style 4 pole bobbin.
See also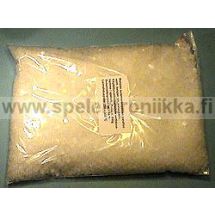 Tuote 102019. Parafin for guitar pickups, melting point 54 - 58 ºC. 500g polybag, more info in our web pages in "speksit". Kitaran mikkien parafiini, matalan...
Tuote 109484. Akustisen kitaran tallapinni muovia Ivory pearloid piste TPIVPEAABS. Bridge pin ivory, plastic, pearloid dot (dot diam. 3mm). Tallanasta.
Tuote 113531. Mikrofonin fiiberisarja (prespaani) yksikelaiselle 50mm ST black. Alaosa 2.4mm, yläosa 1.6mm. Single-coil flatwork set, includes top and bottom. 50 mm...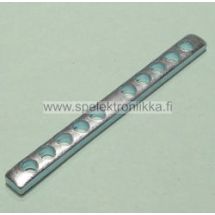 Tuote 102027. "Magneettijohdin" humbucker mikrofonin alle. Johtamaan magneettikenttä polepieceihin. Käyttö POLESCREW ruuvien...
Tuote 102025. Pickup polepiece screw Vintagetyylinen säätöruuvi mikrofoneihin POLESCREW NICKEL. Vintagetyylinen säätöruuvi mikrofonirunkoihin missä on kavennus magneettireiässä, vintage...
Tuote 101860. Bell Top Hat nuppi white BENUPWHITE transparent.
Shielded hotrail cable for guitar pickups and many other applications.
Tuote 109434. Humbucker pohjalevy, 50mm jaolla BABRONZE50F. Stanssattu messingistä. German Silver ei enään valikoimissa.
Humbucker baseplates, made...