Faston connetor set 300pcs 18 different types
Main Page > Electronic components etc ... > Liittimet > Virtaliittimet > Abikoliittimet rengasliittimet
Tuote SBK20840. Faston connetor set 300pcs. 18 different types.
See also
Tuote 109455. LED 3mm Superkirkas Warm White 8000 mcd. Kynnysjännite typically 2.8 - 3.8 V. Säteilykulma 30 astetta.
Tuote 104405. Naparuuvi 4mm, eristetty sininen NR08. Ei sivureikää, kaksi mutteria.
Product 107631. Auxiliary stand for tin soldering, helping hands ... third hand model A. Good magnification 2x in the magnifying glass and "optics" right glass !!! Two...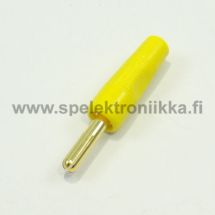 Tuote SBN21565. Banaaniliitin uros 4mm BL1 kullattu keltainen. Kuori kiinnittyy kontaktiosaan kierteellä, kaapeli kiinnitetään ruuvaamalla. Halkaistu kontaktiosa parantaa...
Tuote 109935. Antennikaapeli TV / Radio ja CATV käyttöön valkoinen 4 x suojaus häiriövaimennus 120 dB. Häiriösuojaus alumiinifolio...
Tuote 105683. Sähköteippi PVC "sähkömiehenteippi" Musta. Pituus 10m, leveys 15mm. 0 ... 90°C. HellermannTyton. - PVC-sähköteippi...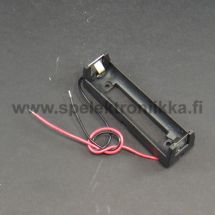 Tuote SPR323951. Battery holder battery case for 1 x 18650 battery with wires at the end.
Batteriehalter Batteriefach für 1 x 18650 Batterie mit...
SJS20358. Joystick arduinoon tai muualle, analoginen 10k trimmerit, painonappi.
Tuote 104402. Naparuuvi 4mm, eristetty musta NR08. Ei sivureikää, kaksi mutteria.