74HC4002 piiri DIP jalallinen 2 x NOR
Main Page > Electronic components etc ... > Aktiivikomponentit, IC -piirit, transist > IC circuits with legs > Logiikkapiirit > 74HC -sarja
Tuote 113366. 74HC4002 piiri DIP jalallinen dual 4-input NOR gate.
See also
Tuote SCP20902. IC piirin kanta 20 napainen jousikanta. Kuva suuntaa-antava.
Tuote SCP20906. IC piirin jousikanta 24 nap. kapea lev. 7,62mm. Kuva suuntaa-antava.
Tuote 112936. 4075 CMOS piiri DIP jalallinen 3 x 3 input OR.
Tuote 112798. ULN2003. Array. Darlington NPN driver 50V 0.5A. 7 x driver.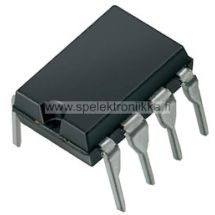 Tuote 111938. LM386 = GL386. Audio amp. LM 386...
Tuote 113281. 74HC11 piiri DIP jalallinen triple 3-input AND gate.
Tuote SSS323988. SS49E S49E 49E Linear Hall anturi  arduino jne ... sovelluksiin. Yleismallin hall anturi, tyyppi vaihtelee varastotilanteen mukaan. Vcc: 2.7 - 6.5...
Tuote 112978. 4514 CMOS piiri DIP jalallinen 4 to 16 linedec.
Tuote 113302. 74HC148 piiri DIP jalallinen 8-line to 3-line priority encoder.