74HC11 piiri DIP jalallinen 3 x AND
Main Page > Electronic components etc ... > Aktiivikomponentit, IC -piirit, transist > IC circuits with legs > Logiikkapiirit > 74HC -sarja
Tuote 113281. 74HC11 piiri DIP jalallinen triple 3-input AND gate.
See also
Tuote 112798. ULN2003. Array. Darlington NPN driver 50V 0.5A. 7 x driver.
Tuote 109351. LM339 4 x komparaattori DIP 14.
Tuote 108038. Keraaminen kondensaattori 47pF 100V NP0.
Tuote 113368. 74HC4017 piiri DIP jalallinen 5-stage ÷10 Johnson counter.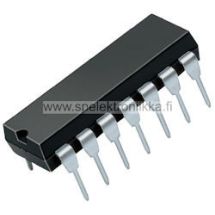 Tuote 113287. 74HC32 piiri DIP jalallinen quad 2-input OR gate.
Tuote 107794. Optohaarukka TCST1103 = CNY36. Infrapuna alueella toimiva optohaarukka. Lähetindiodin anodi merkitty + merkillä, katodi E.
Phototransistorilähtö, kollektori...
Tuote 113312. 74HC164 piiri DIP jalallinen 8-bit parallel-out serial shift register with asynchronous clear.
Tuote SCP20906. IC piirin jousikanta 24 nap. kapea lev. 7,62mm. Kuva suuntaa-antava.
Tuote 101831. Koekytkentälevy koekytkentäalusta, 1380 kytkentäpistettä. Mukana naparuuvit ja taustalevyn kumitassut. Koekytkentäalustan koko n. 90 x 170 mm. Taustalevy...