HT8950 Voice modulator DIP 18
Main Page > Electronic components etc ... > Aktiivikomponentit, IC -piirit, transist > IC circuits with legs > H
Tuote 111744. HT8950 Voice modulator DIP 18. Extremely difficult to describe all sounds what you get. In youtube there is a lot of effects made with this IC.
Guitar voice changes from "church bells to unbelievable howling" and everything between those ...
Human voices go from "Alvin and the Chipmunks to almost what ever you can imagine".
Schematic, partslist etc ...
Someone has added voices to Youtube
See also
Tuote SCP20900. IC piirin kanta 16 napainen jousikanta. Kuva suuntaa-antava.
Tuote 109033. BC517 NPN 40V 0.4A 0.6W darlington TO-92.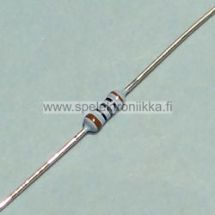 Tuote 106079. Metallikalvovastus 43.2 kohm, 1% ... 2%, 0.4 - 0.6W.
Tuote 100174. Keraamisten kondensaattoreiden lajitelma kerkopuuhis Malli 1. Jännitekestot 25 – 500V. r. 2,5 – 7.5mm
22...
Tuote 108679. Zener diodi 0.4W 3.6V.
Tuote SCP20901. IC piirin kanta 18 napainen jousikanta. Kuva suuntaa-antava.
Tuote 107814. BNC -uros, RG-58 -kaapelille. Puristettava. BNC-uros.
Tuote 108102. Keraaminen kondensaattori 330nF 50V N150.
Tee helposti pienet kytkennät ilman piirilevyn syövytystä.