AT28C16-15P
Main Page > Electronic components etc ... > Aktiivikomponentit, IC -piirit, transist > IC circuits with legs > A
Tuote 111581. AT28C16-15P. Eeprom 16k.
See also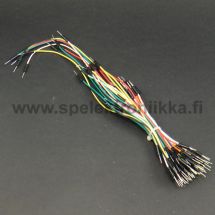 Product 114890. Assortment of jumping wires jumping wires for test circuit board Multicolored jumping wires of different colors for the test connection base approx. 65...
Tuote 111723. HM62256LP-15. 32k SRAM >>> KM62256.
Tuote 113260. 74LS373 piiri DIP jalallinen octal transparent latch with three-state outputs.
Tuote 113874. Piikkirima 1 x 40, rasteri 2.54 mm kulma.
Tuote SST24617. STEP-UP DC/DC-MUUNNIN 5-28V max. 2A micro USB tulo. Moduuli arduino sovelluksiin ja muihinkin labrauksiin. Tulojännitealue max. 3.3V - 24V. Lähtöjännite max. 5V...
Tuote 111462. 6116 = 76C28 = SRM2016 = D446.
Tuote 113272. 74LS574 piiri DIP jalallinen octal D-type edge-triggered flip-flop with three-state outputs.
Tuote 103675. Monikierrospotentiometri 100 kohm. Tehonkesto 2W, akseli 6.35 mm, 10 -kierrosta. Runko muovia, metalliakseli.