Keraaminen kondensaattori 1pF 63V N150
Main Page > Electronic components etc ... > Passive components, resistors, capasitors > Kondensaattorit polkot elkot kerkot jne > Kerkot keraamiset kondensaattorit > Keraamiset kondensaattorit 0 ... 10 pF
Tuote 107940. Keraaminen kondensaattori 1pF 63V N150.
See also
Tuote 101894. Microphone changeover switch TOGGSW1GB (gold / black). LP style toggle switch for two microphones, 3-position. comes with a black knob. Visible mechanics gold. The...
Tuote 101938. Nuppi, TOGGLENUPGD kulta metallinuppi millikoko. TOGGSW1CW ja TOGGSW1ICC:lle, EI YM-T, EI Switchcraft kytkimille. Gibson tyylinen nuppi. Millikoko.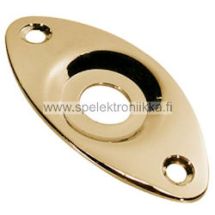 Tuote 107458. Jakkilevy, ovaali syvennyksellä JAKLE1GD kulta. Jackplate for guitars. Oval recessed. Screw holes 2 x flat or oval head dia. 3.5 mm (0.138"). Jack hole...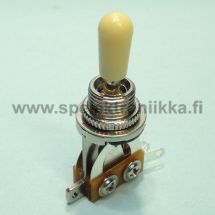 Tuote 101892. Mikrofoninvaihtokytkin TOGGSW1ICC (crome/ivorycream). LP tyylinen vaihtokytkin kahdelle mikrofonille, 3 -as. mukana kerma (ivory) nuppi. Näkyville jäävä mekaniikka...
Tuote 101858. Bell Top Hat nuppi gold BENUPGOLD transparent. Bell type plastic knob. h. 12.5 mm, w 16.5/26 mm.
Tuote 107966. Keraaminen kondensaattori 4.7pF 63V N150.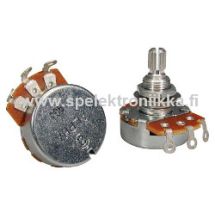 Tuote 114176. ALPHA 24mm kitarapotentiometri bushing 8mm ALP500kB44/lin millikoko. HUOM !!! Mukana 2 mutteria + prikka helpottamaan pleksiin asennusta. Merkintä B...
Copper tape for RF shielding, extremely useful for guitars.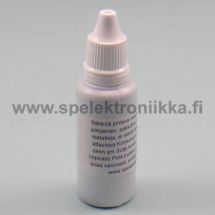 Tuote 108587. Electric paint 30ml black. Thick mixture, it is advisable to always mix before use, with water getting more fluid. Water-based, does not contain metals, does...