Nitroselluloosalakka spray Sunburst Red perfect for 3 tone transition 500ml
Startsidan > Gitarrdelar gitarrtillbehör Instrumentbygge tillbehör > Gitarrdelar gitarrtillbehör OL / SPG / Boston > Färg, lack
Tuote 107801. Nitroselluloosalakka kitaroille spray 500 ml, Sunburst Red perfect for 3 tone transition. Kitaroiden lakkaukseen vintagetyylillä. Nitroselluloosalakka spray purkissa 500 ml.
Nitrocellulose lacquer has been used on guitars since the fifties and sixties because of its excellent characteristics. Forming a very thin layer it allows the wood to resonate freely with little restraint. It can be spot repaired easily and when buffed, shows a beautiful shine. Finally, the way this lacquer ages (cracking, yellowing, checking) adds to the character of the instrument.
Only use this aerosol in well ventilated, dry areas with a temperature of at least 15'C. Aerosols produce a lot of fine dust, remove or cover all items that don't need lacquer. Always wear protective clothes/gloves/glasses!
Shake the spray can well (up side down) for a few minutes. Test the lacquer on a small piece of wood, metal, etc. Make sure the area to be painted is clean, free from dust, grease etc.
Hold the spray can vertically approximately 20cm from the area to be painted. Slowly move the can from side to side and begin spraying, while keeping a consistent distance. When changing direction release and reapply pressure. Apply a thin layer of lacquer and wait for 10 minutes before spraying the next. It can take up to a few days for the lacquer to reach maximum strength.
After using the aerosol, hold it up side down and spray untill only gas is coming from the nozzle. Now you can safely store it for future use.

Merkinnät
1272/2008 (CLP)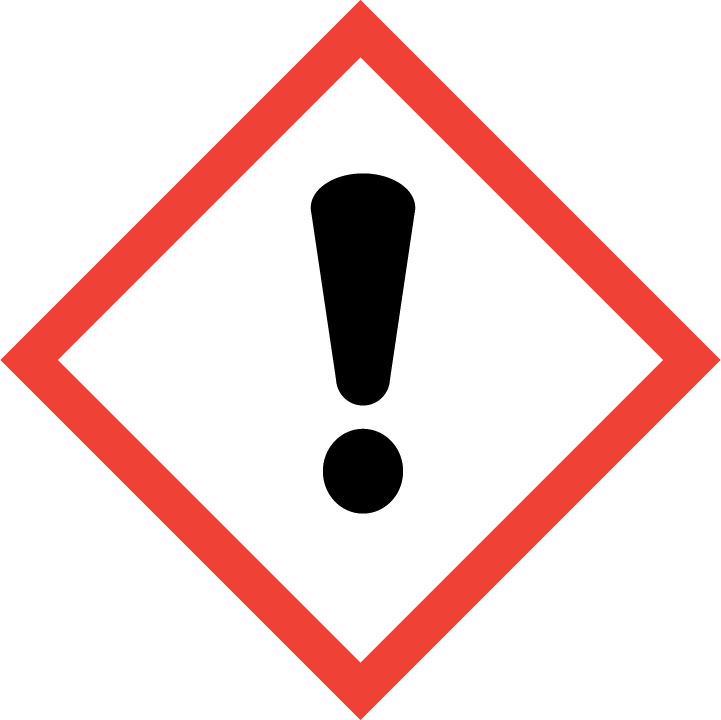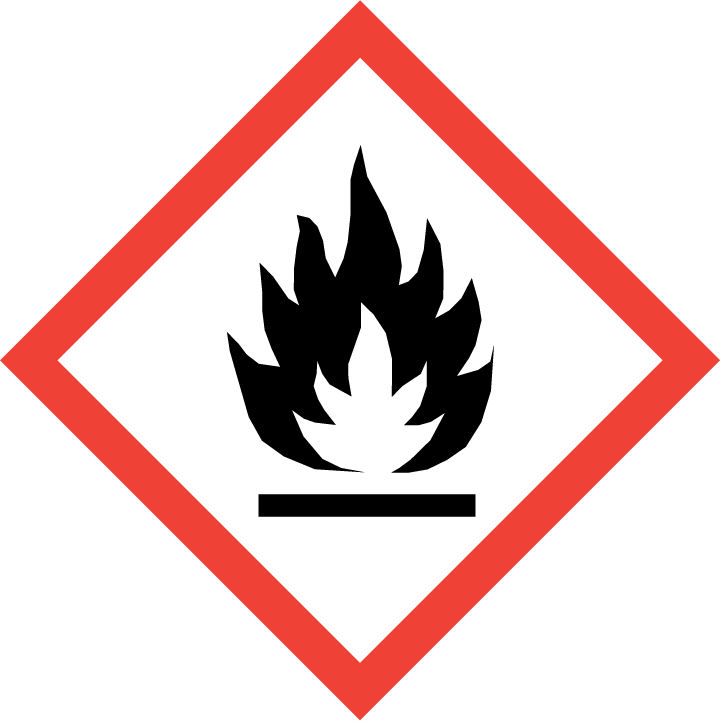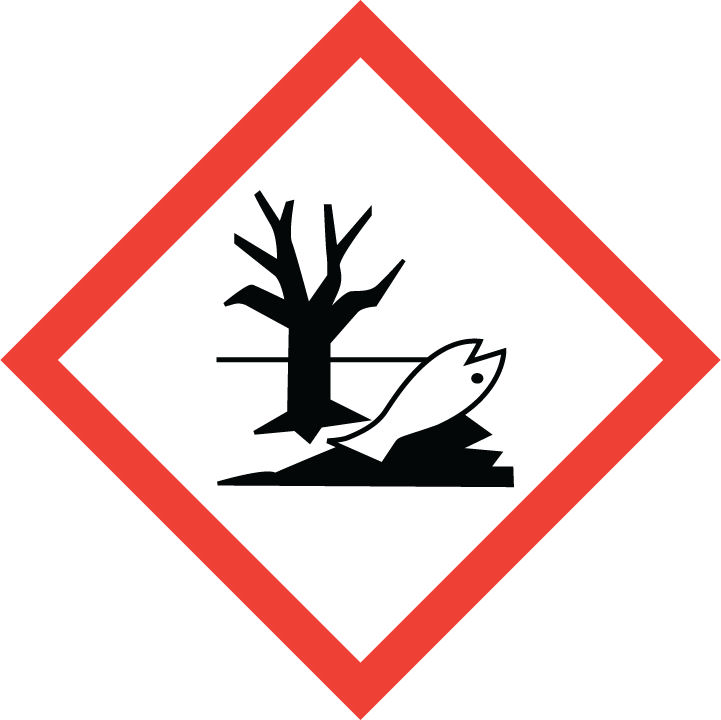 GHS08 - GHS07 - GHS02 - GHS09
Huomiosana Vaara
Vaaralausekkeet
H222 Erittäin helposti syttyvä aerosoli.
H304 Voi olla tappavaa nieltynä ja joutuessaan hengitysteihin.
H315 Ärsyttää ihoa.
H319 Ärsyttää voimakkaasti silmiä.
H332 Haitallista hengitettynä.
H336 Saattaa aiheuttaa uneliaisuutta ja huimausta.
H411 Myrkyllistä vesieliöille, pitkäaikaisia haittavaikutuksia.
Turvalausekkeet
P251 Painesäiliö: Ei saa puhkaista tai polttaa edes tyhjänä.
P210 Suojaa lämmöltä/kipinöiltä/avotulelta/kuumilta pinnoilta. - Tupakointi kielletty.
P211 Ei saa suihkuttaa avotuleen tai muuhun sytytyslähteeseen.
P262 Varo kemikaalin joutumista silmiin, iholle tai vaatteisiin.
P410+P412 Suojaa auringonvalolta. Ei saa altistaa yli 50 °C/ 122 °F lämpötiloille.
P102 Säilytä lasten ulottumattomissa.
Ingredienser
Märkningsuppgifter
1272/2008 (CLP)
GHS08 - GHS09 - GHS07 - GHS02
Signalord Fara
Faroangivelser
H222 Extremt brandfarlig aerosol.
H304 Kan vara dödligt vid förtäring om det kommer ner i luftvägarna.
H315 Irriterar huden.
H319 Orsakar allvarlig ögonirritation.
H332 Skadligt vid inandning.
H336 Kan göra att man blir dåsig eller omtöcknad.
H411 Giftigt för vattenlevande organismer med långtidseffekter.
Skyddsangivelser
P251 Tryckbehållare: Får inte punkteras eller brännas, gäller även tömd behållare.
P210 Får inte utsättas för värme/gnistor/öppen låga/heta ytor. - Rökning förbjuden.
P211 Spreja inte över öppen låga eller andra antändningskällor.
P262 Får inte komma i kontakt med ögonen, huden eller kläderna.
P410+P412 Skyddas från solljus. Får inte utsättas för temperaturer över 50 °C/ 122 °F.
P102 Förvaras oåtkomligt för barn.
Katso myös
Tuote 104558. Nitroselluloosalakka kitaroille spraypurkki 500 ml, black. Kitaroiden lakkaukseen vintagetyylillä. Nitroselluloosalakka spray purkissa 500 ml.
Tuote 109248. Reunalista, reunanauha kitaraan ABS, White FWHT1560. Mitat noin mittoja. White, 1.5 mm x 6 mm x 1600 mm, (0.059x0.24x63").
Tuote 103651. Sähkökitaran kielisetti Boston 10-46. 010-013-017-026-036-046. Vara 010 ja 013 mukana. String set electric, nickel roundwound, 010-013-017-026-036-046.
Tuote 103194. Otelautaudan sivumerkki 2 mm, white SIVUM20W. Otelaudan sivumerkit muovia. Fretboard side dot materials plastic. Length approx. 50 mm (1.969"). Dia. approx. 1.5...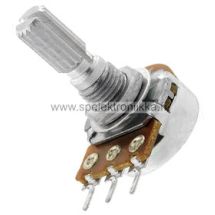 Tuote 107055. Monopotentiometri 1 kohm lineaarinen, metallia. Booritettu akseli 6mm, tehonkesto 100mW, jännitekesto 20VDC tai 150 VAC, rungon halkaisija n. 17 mm, paksuus...
Tuote 114861. IC piirin kanta 8 napainen jousikanta. Kuva suuntaa-antava.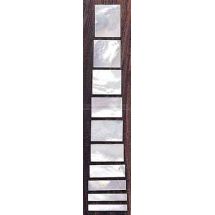 Tuote 102452. Otelautamerkki suorakaide, aito MOP. Block style fretboard inlay genuine white MOP, 10 pcs/set. Setti.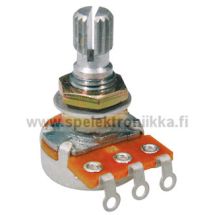 Tuote 101837. "Ultra made in Korea", potentiometrit kitaroille ja vahvistimille. "Center click" potentiometrit, lineaarisia = B...
Tuote 103067. Trussiraudan peitelevy Bell LP "Shorty" style 2 ply. Pituus n. 50 mm. Asennus musta puoli ylöspäin. Suojakalvo.