Pleksilevy aihio (tigerred/white/black) 3ply, TIGR/W/B3PLY
Main Page > Parts for musical instruments > Machineheads and other parts OL / SPG / Boston > Uncutted pickguard materials
Tuote 103229. Kitaran pleksilevy aihio (tigerred/white/black) 3ply, TIGR/W/B3PLY. 290 x 450 mm. Kaikki mitat noin mittoja. Tummanpunaisen ja tummanruskean sävyjä. Kokopleksin kuvan värisävyt lähinnä luonnollista. Laadukas Boston Musical Products pleksi, mitat ovat hyötymittoja ja todellinen koko on isompi.
Ne kuvat missä pleksin alla on puu, on otettu luonnonvalossa, välillä paistoi aurinko ja välillä oli pilvistä.
Joistain plekseistä otettiin useampi kuva erillaisissa valaistuksissa, että näkisi kuinka paljon värisävyjen näkymiseen vaikuttaa valaistus.
Plekseissä on suojakalvo päällä, joka näytti tekevän osan kuvista hieman "sumeaksi" pinnaltaan, eli kuvissa olevat värit ovat joidenkin pleksien kohdalla aika hailakoita verrattuna todelliseen.
Pleksien värisävyjen näkymiseen vaikuttaa myös tietokonenäytön asetukset.
See also
Tuote 102417. Peukalonlepuutin bassoon. Muovia. Ei ruuveja mukana. Bass thumb rest. Plastic, 13 x 12 x 65 mm. Musta.
Tuote 114641. Rullatalla sähkökitara Schaller 12080200 STM Kromi. Mittakuva High-quality bridge for all Les Paul™* type guitars. Compatible with post spacings from...
Tuote 104206. Kitaran pleksilevy aihio (black/cream/black) 3ply, B/CM/B3PLYBIG. 290 x 450 mm. Kaikki mitat noin mittoja. Kuten...
Tuote 114107. Kieltenohjain, pit. 45.2mm, kiinnitysväli 30.0 mm, reiät 2.40 mm. Ruuvit mukana. Tension bar, length 1.78", hole spacing 1.181", hole dia. 0.094".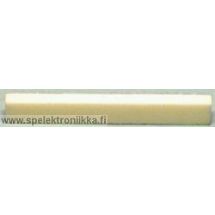 Tuote 114265. Satula-aihio, aitoa luuta. Blank unslotted saddles made of bone. Mitat minimi mittoja. 3.5 mm x 5.7 mm x 43 mm.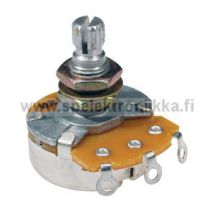 Tuote 109729. Alps 24mm kitarapotentiometri PM250kB/lin. "Alps made in Japan" potentiometrit, mitat kuten 24/10 tyypit. Mukana 2 mutteria + prikka. Monissa Japanilaisperäisissä kitaroissa...
Tuote 101895. YM-T20GG Hosco, vaihtokytkin kahdelle mikrofonille, mitat kuten TOGGSW1, mutta hieman tukevammalla mekaniikalla. Mukana muovinuppi. Sarjan 340 nupit sopivat...
Tuote 107911. Stereorunkojakki stereorunko 6.3mm Stereometal63. Ei kytkintä. Kierteet sopii mm. Tele jakkikuppiin JAKLE 7 JAKLE7.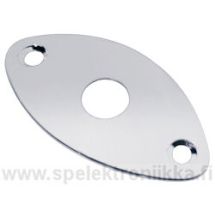 Tuote 102435. Jakkilevy kitaralle. Ovaali, ei syvennystä. Jack plate for guitar. Oval, not recessed. Screw holes 2 x flat or oval head, dia. 3.5 mm (0.138"). Jack hole...