Akustisen kitaran jakki, stereo, iso laippa, kromi AJCR
Main Page > Parts for musical instruments > Machineheads and other parts OL / SPG / Boston > Contorl plates jack plates jacks
Tuote 104643. Akustisen kitaran jakki, stereo, iso laippa, kromi AJCR. Voidaan johdottaa monoksi tai hyödyntää virtakytkimenä, kun monoplugi laitetaan paikoilleen. Akustisen kitaran jakki 6.3 mm, varustettuna kolmireikäisellä kiinnityslaipalla. Laipan halkaisija n. 25 mm, ruuvin reikien halkaisijat n. 2.5 mm, asennusreikä halkaisija n. 11.8 mm, rungon pituus n. 30 mm + hihnanuppi. Päästä päähän pituus n. 56 mm. Jack for acoustic guitar, with endpin + flange where 3 mounting holes. Jack 0.25", flange dia 0.976", flange screw holes dia 0.083", mounting hole dia 0.465" body depth 1.181".
See also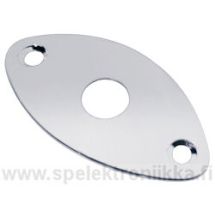 Tuote 102435. Jakkilevy kitaralle. Ovaali, ei syvennystä. Jack plate for guitar. Oval, not recessed. Screw holes 2 x flat or oval head, dia. 3.5 mm (0.138"). Jack hole...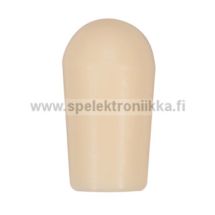 Tuote 101934. Vaihtokytkimen nuppi. TONUPCM, ivory LP -tyylinen nuppi TOGGSW1CW ja TOGGSW1ICC:lle. Millikoko.
Tuote 103358. Pleksilevy (plektrasuoja) kerman värinen (cream) LP1CM, LP -tyylisiin kitaroihin. LP -style plastic pickguard. 1Ply. Kuvat suuntaa-antavia, värisävyt eivät...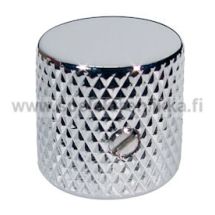 Tuote 101884. Potentiometrin nuppi. Karhennettu metallinuppi FSNUPCR, kromi 19 x 19 tyyli, FLAT DOME. Ruuvikiinnitys, ruuvi on kuusiokanta tai talttapää, riippuen nupin...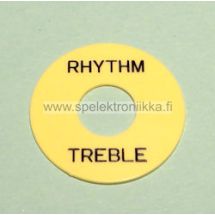 Tuote 109882. LP -tyylisen kitaran muovinen kytkimen peitelevy. Plastic switch plate. Out dia. 34.3 mm (1.350"), hole dia. 12.8mm (0.504"). With rhythm / treble text. Cream...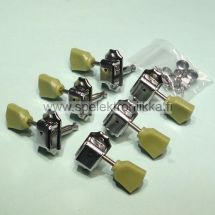 Tuote 115414. Keystone nupeilla kluson tyylinen virityskoneisto 3L + 3R SPG138CR vihertävillä muovinupeilla. 6 -kieliselle kitaralle 3L + 3R. Kielen reikä tapin läpi, ei...
Tuote 109795. Ovaalikanta nikkeli puuruuvi 2512NiW. Soitinrakentelussa käytettäviä ruuveja. Mounting screws for guitars, switches, pickguards, pickups, machineheads, bridges...
Tuote 102119. Ukulele virityskoneisto 2L + 2R, nikkeli / valkoinen. Ei ruuveja. Ukulele tuning machine set 2L + 2R nickel / white. W/O screws. Fixing hole 6mm, knob width...
Tuote 106852. Polko polyesterikondensaattori 22 nF 250V r.10...