Kiinnikepari, musta, FR -tyyliseen tallaan KPS59BLK
Main Page > Parts for musical instruments > Machineheads and other parts OL / SPG / Boston > Tremolos and tremolo parts OL / SPG / Boston
Tuote 103073. Kiinnikepari, musta, FR -tyyliseen tallaan KPS59BLK, setti sisältää 2 kpl ruuvia ja vastaketta, vastakkeissa uritus koko matkalla. Käytetään mm. FRSET seteissä. Inserts and studs set, includes 2 screws and Inserts. Used for example in our FRSET. Diameter of insert 10.0 mm (0.394"), length 21.0 mm (0.827").
See also
Tuote 107456. Jakkilevy, ovaali syvennyksellä JAKLE1CR kromi. Jackplate for guitars. Oval recessed. Screw holes 2 x flat or oval head dia. 3.5 mm (0.138"). Jack hole...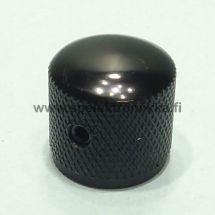 Tuote SLM20567. Metallinuppi black 18 x 18.5 FDNUPBK ruuvikiinnitys. Full Dome, ruuvikiinnitys, ruuvi on kuusiokanta tai talttapää, riippuen nupin mallista. Jos kuusio...
Tuote 104162. Ovaalikanta nikkeli Gotoh puuruuvi 4045NIW. 4 x 45 mm, wood, Ni, oval. Soitinrakentelussa käytettäviä ruuveja. Mounting...
Tuote 109258. Jakkilevy, suorakaide syvennyksellä JAKLE3CR kromi. Jakkilevy kitaralle. Suorakaide, syvennyksellä. Rectangle jack plate for guitar, recessed. Srew...
Tuote 114033. Paineilmaspray, palava ponneaine 400ml. Painepuhallin pölyn ja irtolian poistoon ATK- ja konttorikoneista, rahanlajittelulaitteista sekä kameroista ja...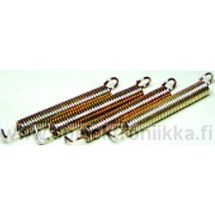 Tuote 102342. Tremolon (vibran) varajouset, setti sisältää 4 jousta. Laadukkaat jouset, voimakkuuksia mixaillen saat varmasti oikean tuntuman vibraasi. Korea.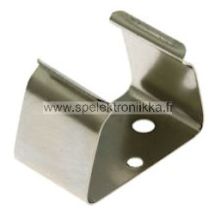 Tuote 114690. Paristonpidin 9V patterille paristo mahalleen, terästä 4 ruuvinreikää. Leveys alhaalta n. 25 mm, korkeus n. 19.5 mm.
Tuote STC20576. Yksikelainen ST kitaramikrofoni OL® SP052BK Black Bridge. Ceramic. Screws and springs included. DC resistance n. 6.1 k, inductance n. 6.0 H. Wires Yellow/Black.