ALNICO suorakaidemagneetti WEAK51060
Main Page > Parts for musical instruments > Machineheads and other parts OL / SPG / Boston > Guitar pickup magnets
Tuote 102050. Todellinen muinaislöytö !!! Alnico suorakaidemagneetti, voiko enään vintagempi olla, niin heikko että luulisi raudanpalaksi.Tätä ei enään tarvitse heikentää. Hankaluuksia melkeimpä päättää missä on N ja missä S. Magnetointi ehkä kuitenkin hieman voimakkaampaa tasopinnoilla. Tällä kieli värähtelee kyllä pitkään. Käyttö esim. Kromattujen teräspalojen kanssa niiden alle asennettuna erillaisissa kitaramikki sovelluksissa. Mitat lähellä keraamisia suorakaidemagneetteja joita käytetään mm. single ja bassomikeissä. Tosi värkkäilijöille. Extremely weak alnico, almost like a piece of steel. Difficult even decide where is N and were is S. Magnetism maybe slightly better in level sides. Not for humbuckers. 5 x10 x60 mm (0.197 x 0.394 x 2.36"). Kun loppuu... niin loppuu... ei lisää. No more new stock when sold out.
See also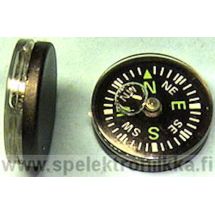 Tuote 102053. Kompassi 8 mm x 25 mm, mikrofonimagneettien napaisuuksien testaamiseen ym. ym. Ei sovellu suunnistukseen. Compass, can be used for example testing pickupmagnets...
Product 104678. Guitar microphone winding wire, pickup wire AWG43 / 0.055 mm yarn  approx. 25.3g / 1km, approx. 6 kohm / 1km.

One...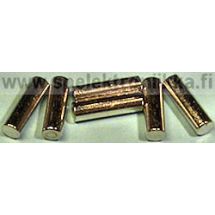 Tuote 102051. Pickup polepiece slug Kromatut teräspalat kitaramikrofoneihin. Kromatut teräspalat kitaramikrofoneihin missä käytetään suorakaidemagneettia mikrofonin alla. Ø 5mm...
Tuote 102025. Pickup polepiece screw Vintagetyylinen säätöruuvi mikrofoneihin POLESCREW NICKEL. Vintagetyylinen säätöruuvi mikrofonirunkoihin missä on kavennus magneettireiässä, vintage...
Product 115327. Ceramic Ceramic 8 Bar Magnet 5mm x 10mm x 60mm for Guitar Pickups. Ceramic rectangular magnet. Multi-use magnet, upgrades for guitar finals, microphone construction, etc. Single...
Tuote 102040. ALNICO 5, magneetti Ø 5mm (0.195") ALNICO 5 flat top magnets for guitar pickups soveltuvat ylä, ala ja keskimikin magneeteiksi (FRM). Vintage non staggered...