ALNICO suorakaidemagneetti WEAK51060
Main Page > Parts for musical instruments > Machineheads and other parts Boston / SPG > Pickup building parts
Tuote 102050. Todellinen muinaislöytö !!! Alnico suorakaidemagneetti, voiko enään vintagempi olla, niin heikko että luulisi raudanpalaksi.Tätä ei enään tarvitse heikentää. Hankaluuksia melkeimpä päättää missä on N ja missä S. Magnetointi ehkä kuitenkin hieman voimakkaampaa tasopinnoilla. Tällä kieli värähtelee kyllä pitkään. Käyttö esim. Kromattujen teräspalojen kanssa niiden alle asennettuna erillaisissa kitaramikki sovelluksissa. Mitat lähellä keraamisia suorakaidemagneetteja joita käytetään mm. single ja bassomikeissä. Tosi värkkäilijöille. Extremely weak alnico, almost like a piece of steel. Difficult even decide where is N and were is S. Magnetism maybe slightly better in level sides. Not for humbuckers. 5 x10 x60 mm (0.197 x 0.394 x 2.36"). Kun loppuu... niin loppuu... ei lisää. No more new stock when sold out.
See also
Tuote 102558. Metalliset "vanhanajan" humbucker kuoret, SUOJA4CR kromi. Metallic vintage humbucker covers. Korkeus / height n. 16 mm. Standard inner size. Polepiece spacing...
Tuote 102040. ALNICO 5, magneetti Ø 5mm (0.195") Tasaiset päät, soveltuvat ylä, ala ja keskimikin magneeteiksi (FRM). Vintage non staggered alnico...
Tuote 114170. Titebond Premium II kosteudenkestävä puuliima 237 ml 8 OZ. Todella hyvin toimiva puuliima (polyvinyyliasetaatti) ulkokohteisiin kuten puutarhakalusteet, ulko-ovet...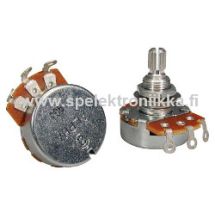 Tuote 114173. ALPHA 24mm kitarapotentiometri bushing 8mm ALP250kA41/log millikoko. HUOM !!! Mukana 2 mutteria + prikka helpottamaan pleksiin asennusta. Merkintä B...
Tuote 112104. Dr. Ducks Ax Wax & String Lube. Ax Wax & String Lube, organic cleaner polishing moisturizer, 4 oz. flip top bottle As used by these manufacturers on...
Product 104678. Guitar microphone winding wire, pickup wire AWG43 / 0.055 mm yarn typically around 160-170g in coil. approx. 25.3g...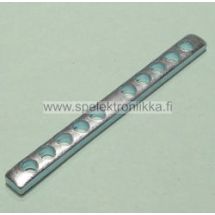 Tuote 102027. "Magneettijohdin" humbucker mikrofonin alle. Johtamaan magneettikenttä polepieceihin. Käyttö POLESCREW ruuvien...
Tuote 107471. Hypoallergenic FRET WIRE 25 / 40 ei allergisoiva frettinauha. Ei sisällä nikkeliä. Rauta, kupari, sinkki seos. Toimitetaan n. 40 cm pätkissä. B...