Copper tape for RF shielding, extremely useful for guitars 1m, leveys 5mm
Main Page > Parts for musical instruments > Machineheads and other parts Boston / SPG > Pickup building parts
Tuote 103403. Coppertape, copper shielding tape, non conductive adhesive backing. Sold as 1 m. Width 30 mm, with non conductive adhesive backing.
This also helps many times to reduce the hum, buzz and other interferences from electronics such as now very common problems that comes from those small energy saving switched power supplies which are used for small effect boxes etc ...
Kupariteippi copper shielding tape (kuparifolioteippi) 1m, leveys 5mm. Kupariteippi (kuparifolioteippi), leveys 5 mm, teippejä myydään metreittäin. Kitaroiden pleksilevyjen taakse häiriösuojaukseen. Kitaramikrofonien suojauksiin, RF-suojaukseen, antennien ja maatasojen tekoon, kelojen tekoon jne. Ei johtava liima. Katso myös sähköä johtava maali sivuiltamme.
See also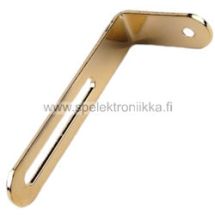 Tuote 109769. Pleksilevyn kiinnike PLK1GDSMA LP tyylisille plekseille kulta. Pleksilevyn pidikerauta mm. kaarevapintaisille esim. LP -tyylisille pleksilevyille. Kiinnitysruuvi...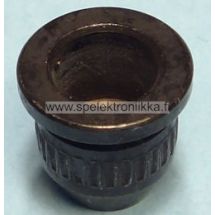 Tuote 104626. Kieltenpujotusholkki KPH22BLK musta, string bushing. Mitat lisätiedoissa. Boston Musical Products tai OL Guitarparts Korea.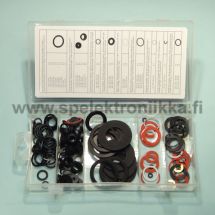 Tuote 101274. Tiivistelajitelma 125 osainen. O -renkaita sekä kumia että nailonia, kuitutiivistealuslevyjä, tiivistealuslevyjä, latta-aluslevyjä, kumisia aluslevyjä, pehmeitä vaahtotiivistealuslevyjä, alumiinisia...
Tuote 102530. "Postimerkkiluuppi", kartoille, piirilevyille, erillaisille materiaaleille jne. mahdollista laittaa tarkasteltavaa pintaa vasten, alaosa läpinäkyvää pleksiä jonka...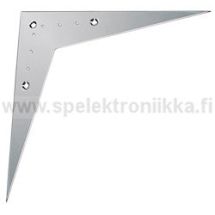 Tuote 102416. V -mallin kitaroiden kielenpujotuslevyt. RR-tyylissä toinen sakara lyhyempi. Flying V-style tailpiece plates. In RR -style other side shorter than other. CR...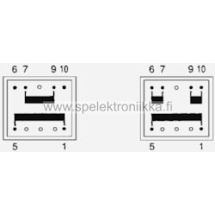 Tuote 111078. Piirilevymuuntaja 1 x 6V / 250mA. Muuntajien tyhjäkäyntijännite kuormittamattomana on suurempi kuin ilmoitettu...
Tuote 103591. Coin validator assembly "Rahapelti". Mekaanisen rahanvalitsimen kiinnitysmekaniikka, myös hylkäysohjain kouru. Keltapassivoitua peltiä. Äärimitat n. 190...
Tuote SRN21606. Binding material for guitar ABS, Black FBK1530. Mitat noin mittoja, 1.5 mm x 3 mm x 1650 mm.
Tuote 101865. Speed Hatbox nuppi amber SPNUPAMB. Korkeus n. 12.5 mm, Halkaisija n. 26 mm.