Copper tape for RF shielding, extremely useful for guitars 1m, leveys 5mm
Main Page > Parts for musical instruments > Machineheads and other parts OL / SPG / Boston > Pickup building parts
Tuote 103403. Coppertape, copper shielding tape, non conductive adhesive backing. Sold as 1 m. Width 30 mm, with non conductive adhesive backing.
This also helps many times to reduce the hum, buzz and other interferences from electronics such as now very common problems that comes from those small energy saving switched power supplies which are used for small effect boxes etc ...
Kupariteippi copper shielding tape (kuparifolioteippi) 1m, leveys 5mm. Kupariteippi (kuparifolioteippi), leveys 5 mm, teippejä myydään metreittäin. Kitaroiden pleksilevyjen taakse häiriösuojaukseen. Kitaramikrofonien suojauksiin, RF-suojaukseen, antennien ja maatasojen tekoon, kelojen tekoon jne. Ei johtava liima. Katso myös sähköä johtava maali sivuiltamme.
See also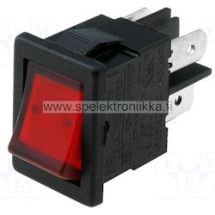 Tuote 113588. Keinukytkin nro:68 punainen valo 2 x ON-OFF. Asennusaukko n. 13 x 19 mm. Abikot. 10A 250VAC.
Tuote 100640. Laadukas oikea RF -ihmisen Ferroperm kerko. Myydään 1000kpl erissä.
3.3pF/400V/N150/r.5mm. Pitkät jalat.
Vain...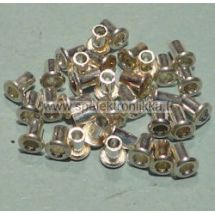 Tuote 113839. Läpivienti new age eyelet plated copper pituus 3.4 mm n. 100 kpl. Kokonaispituus n. 3.4 mm, laipan halkaisija n. 3 mm, putken ulkohalkaisija n. 1.9...
Tuote 100383. LCD -näyttö LM1125, 2 -rivinen, 16 -merkkiä/rivi, ohjain on HD 44780 yhteensopiva. Taustavalon virranrajoitusvastukset näytön...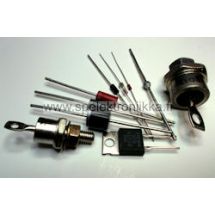 Tuote 108236. 1N4007 1000V 1A.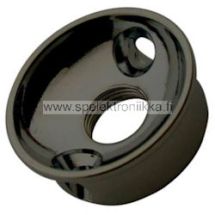 Tuote 107909. Jakkikuppi JAKLE7BK TC -tyylinen musta.  TE-model input cup, with angled screwholes, M9 thread, metal, black. JAKLE 7. Näihin sopii stereorunkojakkimme Tuote...
Tuote SKL20414. Kieltenohjain SKL20414CR kromi korotus 5 mm. Korotus 5 mm. Korotusholkin halkaisija 5 mm. Kielenpidin n. 7.2 x 12.2 mm.
Tuote 109590. 12V LED T10 kanta 5050 white. Vastus sisällä. Virta n. 20mA.
Tuote 103591. Coin validator assembly "Rahapelti". Mekaanisen rahanvalitsimen kiinnitysmekaniikka, myös hylkäysohjain kouru. Keltapassivoitua peltiä. Äärimitat n. 190...