Chicken head osoitin nuppi, transparent kulta
Main Page > Parts for musical instruments > Machineheads and other parts OL / SPG / Boston > Knobs for guitar pots > Plastic knobs for guitar pots
Tuote 101843. Potentiometrin nuppi. Chicken head knob, muovinen osoitin-nuppi. Push to Fit. Transparent (läpikuultava) kulta.
Chicken head knob, plastic point knob. h.15mm, w.16mm, push to fit. Transparent gold.
See also
Tuote 104159. Ovaalikanta kulta puuruuvi 4245GDW. 4.2 x 45 mm, wood, GD, oval. Soitinrakentelussa käytettäviä ruuveja. Mounting...
Tuote 114652. Sähkökitaran talla Schaller 12120500 3D-6 Gold. Flatmount bridge with adjustable height, intonation and string spacing (roller bridge saddles). Mittakuva Flatmount...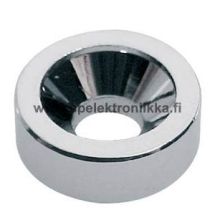 Tuote 114524. Kaulan kiinnitysruuvin holkki, KAUHO1414CR, kromi, kauloihin missä ei haluta tai ei voi käyttää levyä. Neck mounting ferrule. Ulkohalkaisija n. 14...
Tuote 103176. Koriste "reuna" nauha, reunalista, binding material. ABS. Mitat noin mittoja. Cream, 1.5 mm x 6 mm x 1600 mm, (0.059x0.24x63").
Tuote SSH20256. Sähköä johtava lakka Graphit 33 spray. Tämä spray soveltuu monenlaisten häiriösuojauksien tekemisiin esim. muovikoteloiden sisäpinnat, kitaran sisustat...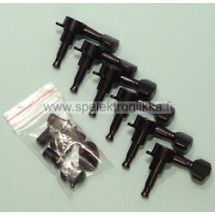 Tuote 109234. Kitaran virityskoneisto LC214BKL 6L musta, ruuvit mukana. Edullinen hyvinkin suosittu Low Cost malli mutta kuitenkin aivan käypänen virityskoneistosetti moniin...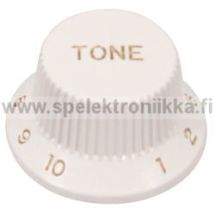 Tuote 101847. Potentiometrin nuppi. ST -tyylinen tonenuppi valkoinen STNUPTW. Korkeus n. 13 mm , leveys n. 17/25 mm. Boston Musical Products tai Korea, riippuen varastotilanteesta.
Tuote SRN21621. Binding for guitar ABS, Abalone Mosaic Pearl FABAMP1560. 1.5 mm x 3 mm x 1650 mm.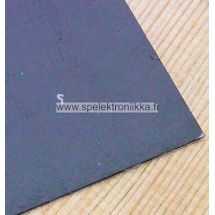 Tuote 103260. Ohut, taipuisa, liimapintainen musta pleksilevy. Esim. akustiselle kitaralle. Plastic pickguard sheet, black, adhesive backing. n. 200 mm x 250 mm x...