Ultra Center Click 18mm potentiometrit
Startsidan > Gitarrdelar gitarrtillbehör Instrumentbygge tillbehör > Gitarrdelar gitarrtillbehör OL / SPG / Boston > Potar > ULTRA potentiometrit kitaroihin
Tuote 101837. "Ultra made in Korea", potentiometrit kitaroille ja vahvistimille. "Center click" potentiometrit, lineaarisia = B -merkintä, logaritmisia = A -merkintä.
Potentiometrissä on keskiasennossa "kynnys" mikä helpottaa potentiometrien esiasettelua mm. suodinkäytössä.
Pots for guitars and amplifiers. Diameter 18 mm (0.709"), depth of body 9 mm (0.354"), dia. of threads 8 mm (0.315"),length of threads 9.5 mm (0.374").
Center click pots, B=tone / treble A =volume. Dimensions as above.
Katso myös
Tuote 108148. Tantaalikondensattori 10uF / 16V pysty.
Tuote 104398. Monorunko 6.3mm, Switchcraft, ei kytkintä. Switchcraft jakki 6.3 mm, mono tai stereo, kierreosan halkaisija 9.4 mm. Switchcraft jack 0.25" thread outer...
Tuote 108051. Keraaminen kondensaattori 100pF 63V NP0.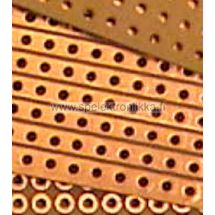 Tuote 109092. Nauhakuparoitu piirilevy nauhakuparoitu reikälevy 100 x 160 mm. Pertinax. Kytkentälevy.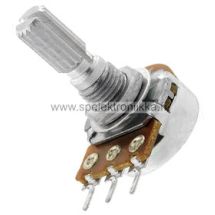 Tuote 107059. Monopotentiometri 50 kohm lineaarinen, metallia. Booritettu akseli 6mm, tehonkesto 100mW, jännitekesto 20VDC tai 150 VAC, rungon halkaisija n. 17 mm, paksuus...
Tuote 114861. IC piirin kanta 8 napainen jousikanta. Kuva suuntaa-antava.
Tuote 107609. Pienoisvipukytkin, 1 x vaihto, vipukytkin 1 x ON - ON. 125VAC / 2A.