ATF26884 General purpose GaAs-FET 16GHz
Main Page > Electronic components etc ... > Aktiivikomponentit, IC -piirit, transist > RF wide band amplifiers and high frequency FET's, Transistors etc ...
Tuote SSP21412. ATF26884 General purpose GaAs-FET 16GHz. Hewlett Packard.
GaAs-FET

7 V

-4 V

50 mA

6 dB

275 mW

16 GHz

85 mil plastic

SMD
See also
Tuote SMG23402. MGA-86563 MGA86563 0.5 to 6 GHz Low Noise GaAs MMIC Amplifier. SOT-363 (SC-70). DC 00-01. MGA-86563  SPEKSIT...
Tuote 103952. ATF50189 single voltage e-phemt FET low noise. PHEMT 2GHZ 4.5V 280MA SOT-89.
!!! LOPPUERÄ !!!.
Tuote SNC23280. NE32584C Hetero Junction Field Effect Transistor. C to Ku band super low noise amplifier N-Channel Hj-FET. Super Low Noise Figure & High Associated Gain...
Tuote SSP21399. SPF2086TK SPF-2086 TK Low Noise pHEMT GaAs FET 0.1 - 6 GHz Operation. RFMD Sirenza.
Tuote 103954. ATF38143 Ultra low noise PHEMT.
!!! LOPPUERÄ !!!.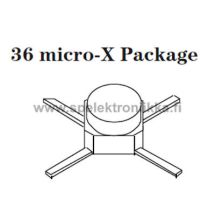 Tuote SSP21414. ATF10236 0.5 – 12 GHz Low Noise Gallium Arsenide FET 36 micro-X Package. Hewlett Packard.