SPF2086TK SPF-2086 TK Low Noise pHEMT GaAs FET 0.1 - 6 GHz Operation
Startsidan > Elektronikkomponenter och tillbehör > Aktiivikomponentit, IC -piirit, transist > RF wide band amplifiers and high frequency FET's, Transistors etc ...
Tuote SSP21399. SPF2086TK SPF-2086 TK Low Noise pHEMT GaAs FET 0.1 - 6 GHz Operation. RFMD Sirenza.
Product Features
•
22 dB Gmax at 1.9 GHz
•
0.4 dB F
MIN
at 1.9 GHz
•
+32 dBm Output IP3
•
+20 dBm Output Power at 1dB Compression
Sirenza Microdevices' SPF-2086TK is a high performance
0.25μm pHEMT Gallium Arsenide FET with Schottky barrier
gates. This 300μm device is ideally biased at 3V,20mA for lowest
noise performance and battery powered requirements. At
5V,40mA the device delivers excellent output TOI of 32 dBm.
It provides ideal performance as driver stages in many
commercial, industrial and military LNA applications.
Katso myös
Tuote SMG23402. MGA-86563 MGA86563 0.5 to 6 GHz Low Noise GaAs MMIC Amplifier. SOT-363 (SC-70). DC 00-01. MGA-86563  SPEKSIT...
Tuote 103952. ATF50189 single voltage e-phemt FET low noise. PHEMT 2GHZ 4.5V 280MA SOT-89.
!!! LOPPUERÄ !!!.
Tuote 112901. 4042 CMOS piiri DIP jalallinen 4 x D-latch clo.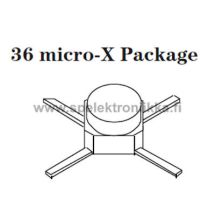 Tuote SSP21414. ATF10236 0.5 – 12 GHz Low Noise Gallium Arsenide FET 36 micro-X Package. Hewlett Packard.
Tuote 103954. ATF38143 Ultra low noise PHEMT.
!!! LOPPUERÄ !!!.
Tuote SSP21412. ATF26884 General purpose GaAs-FET 16GHz. Hewlett Packard.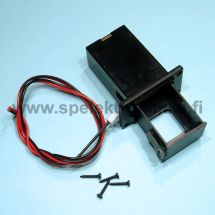 Tuote SLK21768. Laadukas paristokotelo 9V paristolle, paristo lukkiutuu miinusnavastaan kotelon sisälle menevään paristonpitimeen. Kotelon pohjassa jousikontaktit, jännitteen...
Tuote SNC23280. NE32584C Hetero Junction Field Effect Transistor. C to Ku band super low noise amplifier N-Channel Hj-FET. Super Low Noise Figure & High Associated Gain...
Tuote 108580. 2N3904 60V 0.2A 0.625W TO-92.