TC -tyylinen ylämikrofoni, MICT-6487, kromi
Main Page > Parts for musical instruments > Machineheads and other parts OL / SPG / Boston > Guitar pickups
Tuote STC20570. TC -tyylinen yksikelainen ylämikrofoni , MICT-6487. Kromattu metallikuori. Mukana ruuvit ja jouset. Single coil TC -style front pickup with cromeplated metal cover. Screws and springs included. DC resistance 6.8 k, inductance 7.4H. Valkojohtimisessa Wires: White = (hot) ja vaippa = gnd. Punajohtimisessa Wires: White (hot) ja vaippa ja punainen on maa = gnd.
Kitaramikrofonin resonanssitaajuus vaikuttaa suuresti mikrofonin välittämään ääneen ja sävyyn. Pystyt vaikuttamaan resonanssitaajuuteen monipuolisimmin kun kytket tonepotikan paikalle kiertokytkimen, missä on eriarvoisia kondensaattoreita. Arvot välillä esim. 220 pF - 2.2 nF. Näin saat aikaan todellisen "vintage" viritelmän ja kitarasi soundimaailma muuttuu huomattavasti. Kytkis löytyy nettisivuiltamme. Samaan asiaan vaikuttaa myös kaapelien kapasitanssit jne... Aktiivimikit ovat "tunteettomia" ko. asioille, siksi niiden välittämä sointi on aina "kutakuinkin" samanlainen riippumatta piuhojen pituuksista tai vahvistimien input impedansseista. Kuvastomme mikrofonit valmistetaan pääasiassa Japanissa, Koreassa ja Kiinassa, niitä myydään ympäri maailman myös eri tuotemerkeillä ja tyypeillä. Mikrofonit ovat saaneet erittäin hyvää palautetta rakentelijoilta.
Mikrofonien suhteellinen vahvistus ja resonanssitaajuus on mitattu 500 kohm / 680 pF kuormaan (ellei valmistaja ole antanut tietoja), joka on todellisuudessa kutakuinkin potikka + 6 m suojattu kaapeli. Tällainen mittaustapa on yleinen mikrofonivalmistajien keskuudessa, tosin vain harvat ilmoittavat niitä tuloksia. Impedanssi resonanssitaajuudelle voidaan laskea kaavalla 2 x 3.14 x f x L = Z (ohm). f = hertseinä, L = henryinä. Mitatut arvot ovat tyypillisiä ko. tuotteille. Humbuckerit on mitattu sarjaan käämityillä keloilla. TC -tyylin ylämikkejä ei ole mitattu niiden valmistustekniikasta johtuen. (Metallikuori pitäisi irrottaa ja tällöin käämin vioittumisriski on erittäin suuri).
See also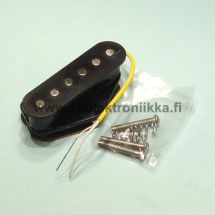 Tuote STC20580. TC tyylinen yksikelainen alamikrofoni SPT054 Black. Ceramic. Screws and springs included. DC resistance n. 6.3 k, inductance n. 6.0 H. Wires White = Hot, GND. Polepiece...
Tuote 107456. Jakkilevy, ovaali syvennyksellä JAKLE1CR kromi. Jackplate for guitars. Oval recessed. Screw holes 2 x flat or oval head dia. 3.5 mm (0.138"). Jack hole...
Tuote SLM20566. Metallinuppi crome 18 x 18.5 FDNUPCR ruuvikiinnitys. Full Dome, ruuvikiinnitys, ruuvi on kuusiokanta tai talttapää, riippuen nupin mallista. Jos kuusio...
Aito ALPHA ei klooni kuten nuo vihreät...
Tuote 114902. Hihnanuppipari HN6916 kromi 2kpl ja ruuvit mukana. Korkeus 10mm, ulkohalkaisija n. 14mm. OL -guitarparts.
Tuote 109252. TC -tyylinen kontrollipaneeli TELEKPCR kromi. TC -tyylinen kontrollipaneeli. TC -style control plate. Screw holes 4 x flat or oval head, dia. 3.7 mm (0.146"), pot...
Tuote SKL20414. Kieltenohjain SKL20414CR kromi korotus 5 mm. Korotus 5 mm. Korotusholkin halkaisija 5 mm. Kielenpidin n. 7.2 x 12.2 mm.
Tuote SKL20413. Kieltenohjain SKL20413CR kromi korotus 2.5 mm. Korotus 2.5 mm. Korotusholkin halkaisija 5 mm. Kielenpidin n. 7.2 x 12.2 mm.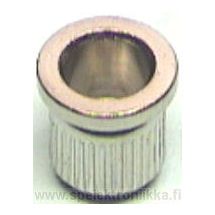 Tuote 104625. Kieltenpujotusholkki KPH22CR kromi, string bushing. Mitat lisätiedoissa. Boston Musical Products tai OL Guitarparts Korea.