Ceramic 8 Bar Magnet 5x10x60 for guitar pickups
Main Page > Parts for musical instruments > Machineheads and other parts OL / SPG / Boston > Guitar pickup magnets
Product 115327. Ceramic Ceramic 8 Bar Magnet 5mm x 10mm x 60mm for Guitar Pickups. Ceramic rectangular magnet. Multi-use magnet, upgrades for guitar finals, microphone construction, etc. Single mixers, etc ... Magnesiation on flat surfaces. Ceramic guitar pickup magnet, commonly used with single and humbucker coil pickups. 5 x 10 x 60mm, (0.197 x 0.394 x 2.36 ").
See also
Tuote 115325. Keraaminen suorakaidemagneetti Ceramic 8 Bar Magnet 5mm x 5mm x 60mm. Keraaminen suorakaidemagneetti.  Monikäyttöinen magneetti, kitaramikkien päivityksiin, mikrofonien...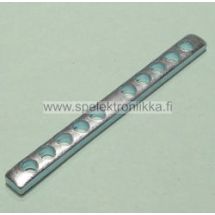 Tuote 102027. "Magneettijohdin" humbucker mikrofonin alle. Johtamaan magneettikenttä polepieceihin. Käyttö POLESCREW ruuvien...
Shielded hotrail cable for guitar pickups and many other applications.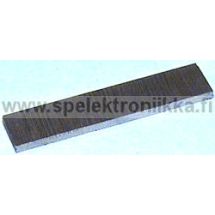 Tuote 102047. Keraaminen suorakaidemagneetti. Käytetään mm. Humbucker mikrofonien rakentelussa. Ceramic guitar pickup magnet, commonly used...
Tuote 102040. ALNICO 5, magneetti Ø 5mm (0.195") ALNICO 5 flat top magnets for guitar pickups soveltuvat ylä, ala ja keskimikin magneeteiksi (FRM). Vintage non staggered...
Tuote 109434. Humbucker pohjalevy, 50mm jaolla BABRONZE50F. Stanssattu messingistä. German Silver ei enään valikoimissa.
Humbucker baseplates, made...
Kromatut teräspalat vintage humbuckereihin 4.8mm...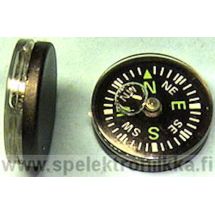 Tuote 102053. Kompassi 8 mm x 25 mm, mikrofonimagneettien napaisuuksien testaamiseen ym. ym. Ei sovellu suunnistukseen. Compass, can be used for example testing pickupmagnets...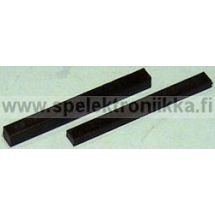 Tuote 102028. Muoviset korotepalat humbucker mikrofonien alle. Plastic shim for humbucker bobbin. Sizes:
3 x...