Punch down impact tool RJ45 LSA krone connectors
Main Page > Electronic components etc ... > Työkalut / juottaminen > Muut
Tuote 104709. Punch down impact tool RJ45 LSA krone connectors.
How to use this: https://www.youtube.com/watch?v=b1FH0hjAzpg
See also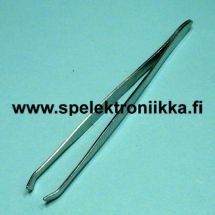 Tuote 110500. Pinsetit suorat 85 mm viistotut kärjet yleismalli. Tweezers for handling small hooks, beads, feathers, and removing unwanted hackle or hair fibers when...
Product 103855. Capo for acoustic guitar. Not for steel strings. It is quite similar to Harley Benton Capo.
Tuote 105830. Pinsetit jyrkemmin kaartuvat 125 mm ruostumaton teräs antimagnetic TFH®. Chippien ladontaan, perhonsitojalle, preparointiin. Hyvälaatuiset edulliset pinsetit. Pituus...