RF viritysmeisselisetti Delrin
Main Page > Electronic components etc ... > Työkalut / juottaminen > Ruuvimeisselit / kuusiokoloavaimet
Tuote 111172. RF viritysmeisselisetti Delrin. DELRIN viritysmeisselisetti, RF -käyttöön trimmereille, kelapurkeille. Hentoja, taipuisia, hienoviritykseen, ei vääntämiseen. Taltta/kuusi /neliö -päät. Meisseleihin jätetty pitkästi varsiosaa siten, että niitä pystyy itsekkin muotoilemaan terävällä veitsellä jos sopivaa kärkeä ei ole.
See also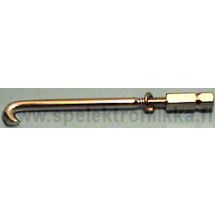 Tuote 102376. Pyöreä tukikoukku + mutteri. Banjolle. Round bracket hook + nut. Length 70 mm
(2.76"), metric threads. For banjo.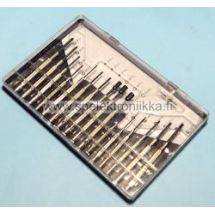 Tuote 108213. Pienoismeisselisarja metallia 16 erillaista meisseliä.
Talttapäämeisselit koot 1, 1.4, 2, 2.4, 3, 3.8...
Tuote 101324. Laadukkaat, keraamisella kärjellä varustetut viritysmeisselit, RF -käyttöön, teräosan pituus 15mm, antistaattinen kahvaosa 80 mm, ruuvausta helpottava pyörivä kahvaosan...
Tuote 103091. D'Addario kielet banjoon. EJ-61, 5 -strings: 0.010, 0.012, 0.016, 0.023w, 0.010. D'Addario banjo sets are the Player's Choice for many professional bluegrass...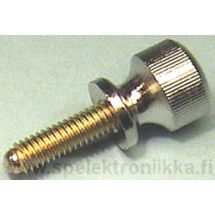 Tuote 102375. Resonaattorin kiinnitysruuvi irrotettavalla kierreosalla. Resonator thumpscrew, threadpart can be detached. 4 mm (0.16") threads.
Tuote 102982. Grafiittisatula 4 -kieliselle bassolle. Graphite pre slotted saddle to 4 -string bass. Width
43mm thickness 6.3 mm, height 8.8 mm.