74LS367 piiri DIP jalallinen 6 x buffer
Main Page > Electronic components etc ... > Aktiivikomponentit, IC -piirit, transist > IC circuits with legs > Logiikkapiirit > 74LS -sarja
Tuote 113262. 74LS367 piiri DIP jalallinen hex buffer with noninverted three-state outputs.
See also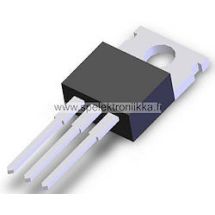 Tuote 109885. LM317 säädettävä regulaattori 1.2 - 37V 1.5A TO-220. LM-317T LM317T.
Tuote 113238. 74LS191 piiri DIP jalallinen synchronous up/down binary counter.
Tuote 113154. 74LS08 piiri DIP jalallinen quad 2-input AND gate.
Tuote 112940. 4081 CMOS piiri DIP jalallinen 4 x 2 input AND.
Tuote 114185. Komponenttien pokkaustyökalu vastuksille ym. vaakamallin komponenteille. Todella kätevä ja helppokäyttöinen työkalu kun esim. esikäsittelee jalallisia...
Tuote 113227. 74LS157 piiri DIP jalallinen quad 2-line to 1-line data selector/multiplexer, noninverting.
ERÄ TODELLA EDULLISESTI ! Aavistuksen taipuneita sivuilta, luultavasti johtuu säilytyksestä. Ei kuitenkaan haittaa mitään käytössä !
Tuote 112927. 4069 CMOS piiri DIP jalallinen 6 x inverter.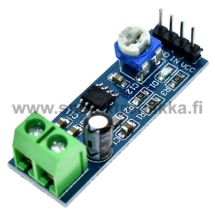 Tuote SLM241259. LM386 vahvistinmoduuli. Käyttöjännite 5 - 12 VDC. Kaiutinkuorma esim. 8ohm. Riippuen sovelluksestasi, huomioi pitääkö inputtiin laittaa DC erotuskondensaattori.