74LS157 piiri DIP jalallinen 2-line to 1-line data selector/multiplexer
Main Page > Electronic components etc ... > Aktiivikomponentit, IC -piirit, transist > IC circuits with legs > Logiikkapiirit > 74LS -sarja
Tuote 113227. 74LS157 piiri DIP jalallinen quad 2-line to 1-line data selector/multiplexer, noninverting.
See also
Tuote 105644. D liitin naaras juotettava 25 napainen.
Tuote 113230. 74LS161 piiri DIP jalallinen synchronous 4-bit binary counter with asynchronous clear.
Tuote 113167. 74LS38 piiri DIP jalallinen quad 2-input NAND buffer with open collector outputs.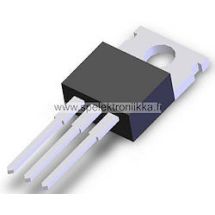 Tuote 109883. Regulaattori 7815 15V 1.5A TO-220.
Tuote 107858. Vastusverkko SIL 7 x 10 kohm SIL-8.
Tuote 104303. Kutistesukka kutistemuovi 3mm/1mm, 0.50 m, musta ei liimaa. Kutistesukka, musta, 3mm / 1mm. 3:1 kutistuvuus, ei liimaa. Myydään 0.5m pätkissä. Ilmoitettu...
Tuote 103271. Tinaimusukka, tinaimunauha 0.8 mm, 1.5 m Chem-Wick. Ultra pure no clean. GREY.
Tuote 106943. Pystyelko 10 uF/50V 105 °C...
Tuote 114861. IC piirin kanta 8 napainen jousikanta. Kuva suuntaa-antava.