SMA - naaras, piirilevylle, suora, kullattu
Main Page > Electronic components etc ... > Liittimet > RF-liittimet > SMA
Tuote 103578. SMA - naaras, piirilevylle, suora, kullattu.
See also
Tuote 114918. SMA naaras kulma piirilevylle.
Tuote 108992. SMA - runko naaras mutterikiinnitys malli A.
Tuote 103906. SMA -naaras jatko puristettava RG-58, kullattu.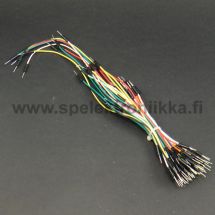 Product 114890. Assortment of jumping wires jumping wires for test circuit board Multicolored jumping wires of different colors for the test connection base approx. 65...
Tuote 109531. SMA-uros RG-58 kaapelille. Keskitappi suositellaan tinattavaksi pienissä liittimissä.
Tuote 103272. Tinaimusukka, tinaimunauha 1.27 mm, 1.5 m Chem-Wick. YELLOW.