Mikrofonin vaihtokytkin pienoisvipukytkin ON-ON-ON kromi
Main Page > Parts for musical instruments > Machineheads and other parts OL / SPG / Boston > Pickup switches for guitar pickups > Boston / SPG / OL switches for guitars
Tuote 106214. Mikrofonin vaihtokytkin pienoisvipukytkin ON-ON-ON kromi.
Kuvan mukaisella oikosulkulangalla varustettuna kytkin toimii 3 x ON/ON/ON. Input on tuo keskimmäinen jalka.
Kytkimen väri sininen tai punainen, riippuen varastotilanteesta.
See also
Tuote 100842. Korkkirasva
"huulirasvaputkilo".
Tuote SKL1243. Akustisen kitaran kompensoitu luusatula valkoinen ala SKL1243. Kaareva. Koko 75.8-10.8-13-11.9 mm, paksuus 2.9 mm.
Tuote 114694. Pienoisvipukytkin PVK 9, vipukytkin 1 x mom(ON) - OFF - mom(ON). 125VAC / 2A. Asennusaukko 6 mm.
Tuote 103184. Koriste "reuna" nauha, reunalista, bindings, ABS. Pearl pattern. Kaikki mitat noin mittoja. 1.5 x 1.5 x 1350 mm (0.059x0.059x53.15").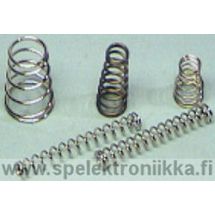 Tuote 102959. Jousipuuhapussi Spring pack 3 esim. mikrofoneille, talloihin ym. Myydään myös yksittäin. Spring packages to pickups, etc. Each package includes 10...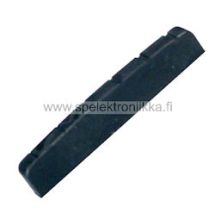 Tuote 102977. Grafiittisatula 6 -kieliselle kitaralle. Graphite pre slotted saddle to 6 -string guitar. Kaareva ja viistottu, curved and obliqued,
43mm x...
Copper tape for RF shielding, extremely useful for guitars.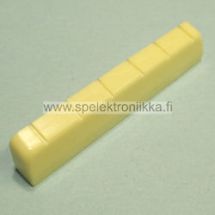 Tuote 102974. Muovisatula luujäljitelmä 6 -kielinen kitara FAKEB3. Kaareva ja loivasti viistottu. Pre slotted plastic saddles, ivory. Curved and slightly tapered towards...
Tuote 102037. JB -tyyliset kelarunko-aihiot. JB-style pickup bobbins. For 4-string. Front and rear. Height 11.5 mm. Fits in our JB -covers. Sold individually.