Condenser microphone electret microphone capsule a good quality electret microphone capsule WM-034CY + filter capacitor
Main Page > Electronic components etc ... > Siren, buzzers, electrec mic's
Product 109907. Condenser microphone electret microphone capsule WM-034CY (EK1). A good quality electret microphone capsule WM-034CY + filter capacitor at the output, removing the filter capacitor frequency response is as shown and is then perfectly suited for music playback, (if only in speech mode leave the hook). The value of the front resistor can be 2.2k - 10k, depending on the operating voltage, eg 9VDC with a voltage of 8.2 - 10k, 4.5V then 2.2k, DC separation capacitor 100nF - 2.2uF. Suitable for speech and music playback. Sensitivity -42dB +/- 3dB if 4.5V / 2.2k. Diameter 9.7mm height 6.7mm.
Microcapsule frequency response and other images larger.
See also
Tätä ei saa enään lisää, poistuu kun loppuu.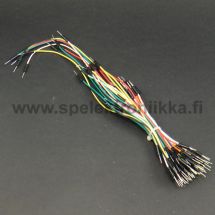 Tuote 114890. Assortment of jumping wires jumping wires for test circuit board approx. 65 pcs male / male. Assortment of jumping wires jumping wires for test connection plate...
Tuote 103133. Plugi 3.5mm 4 -napainen, muovi 3.5 mm, suora, muovikuori ja muovinen taivutussuoja.
Toimii oivallisesti aurinkoa kohti ajellessa (kunhan olet saanut sen ensin koottua oikein), katso ajeluvideo sivuiltamme !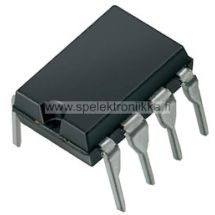 Tuote 111938. LM386 = GL386. Audio amp. LM 386...
Tuote 106933. Pystyelko 1 uF/50V 105 °C...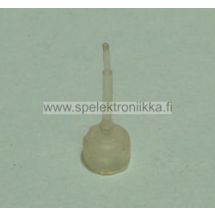 Tuote 109912. Läpikuultava Silikoni -pidike 6mm elektreettikapseleille, estää runkoäänien vaikutusta mikrofoniin, kun kapseli "roikkuu" pidikkeessään.
Tuote 110842. Keltainen 3 mm LED diffusoitu 1kpl. "Tavallinen" diffusoitu 3 mm LED, keltainen. Kuva suuntaa-antava.
LED nauhojen DC adapteri ! DC liitin ruuviliittimillä !