Satula-aihio muovia Hosco NT-RR (NT-RR50) kaareva luunvärinen
Main Page > Parts for musical instruments > Machineheads and other parts OL / SPG / Boston > Saddles and nuts > Satulat satula-aihiot muovia
Tuote 109596. Satula-aihio muovia Hosco NT-RR (NT-RR50) kaareva luunvärinen. 51 x 4.5 x 3.1 mm.
See also
Tuote 104524. Otelautamerkki, simpukkajäljitelmä muovi 6mm OTEMUO6W. Fretboard dots, artificial pearl, plastic. W = white.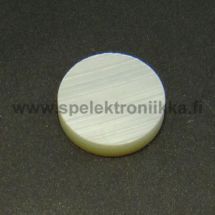 Tuote 104530. Inlay dots pearl dots Genuine White Mother of Pearl  6mm OTEMOP6. White "pearl" (MOP) round fretboard marks. Genuine White Mother of Pearl fretboard dots. Selected...
Tuote SRN21605. Binding material for guitar ABS, Cream / Ivory FIV1530. Mitat noin mittoja, 1.5 mm x 3 mm x 1650 mm.
Tuote 109613. Muovisatula Hosco NT-526K luujäljitelmä klassinen kitara. Koko n. 6 mm x 9 mm x 52 mm.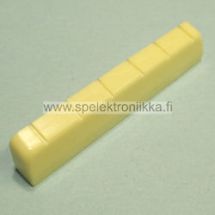 Tuote 102974. Muovisatula luujäljitelmä 6 -kielinen kitara FAKEB3. Kaareva ja loivasti viistottu. Pre slotted plastic saddles, ivory. Curved and slightly tapered towards...
Tuote 103194. Otelautaudan sivumerkki 2 mm, white SIVUM20W. Otelaudan sivumerkit muovia. Fretboard side dot materials plastic. Length approx. 50 mm (1.969"). Dia. approx. 1.5...
Tuote SKL20414. Kieltenohjain SKL20414CR kromi korotus 5 mm. Korotus 5 mm. Korotusholkin halkaisija 5 mm. Kielenpidin n. 7.2 x 12.2 mm.
Tuote 109808. Ultra 24mm logaritminen kitarapotentiometri A250k/24/10/log. "Ultra made in Korea", potentiometrit kitaroille ja vahvistimille. A...
Tuote SFW1539. Otelautanauha FRETWIRE27S09 (HV150) 40cm. Nickel / Silver = (German Silver, Paktong, New Silver). Toimitetaan n. 40 cm pätkissä. FRETWIRE27S09 kovuus...