LED / LCD -näytön raamit STRAPU AR 25-82
Main Page > Electronic components etc ... > LEDs, LED News, Accessories ...
Tuote 106731. LED / LCD -näytön raamit STRAPU AR 25-82. Asennusaukko 34 x 98 mm. Näyttöaukon koko 25 x 82 mm. Raamien ulkomitat 38 x 102 mm. Maksimi materiaalipaksuus milloin kehys on etulevyn takapinnan tasalla n. 4.5 mm.
Raameilla luot näytölliselle laitteelle proffesionaalisen ulkonäön, samalla saat peittoon epätasaisen sahausjäljen.
See also
Tuote 109111. Superkirkas LED 5mm Deep Amber typ. 18000 mcd. Kynnysjännite typically 1.8 - 2.6 V.
Säteilykulma 15 astetta.
Tuote SSP323990. ESP-01 ESP8266 Wi-Fi moduuli arduino jne ... sovelluksiin. Käyttöjännite 3.3VDC. Ottaa virtaa aika paljon kun toimii eli powerissa pitää riittää virransyöttökykyä ainakin...
Tuote 108158. Tantaalikondensattori 47uF / 16V pysty.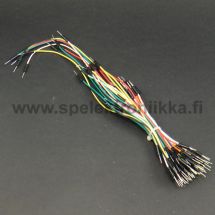 Product 114890. Assortment of jumping wires jumping wires for test circuit board Multicolored jumping wires of different colors for the test connection base approx. 65...
Tuote 114106. Superkirkas LED 5mm Warm White typ. 35000 mcd max. 20mA . Kynnysjännite typically 2.9 - 3.6 V. Säteilykulma 15 astetta !!!
Tuote SCM240359. I2C moduuli-adapteri 1602 2004 2x16 ja 4x20 LCD-näytöille. PCF 8574 piirillä. Netissä paljon ohjeita vaikkapa arduino käyttöön. Alan ihmiset tietävät...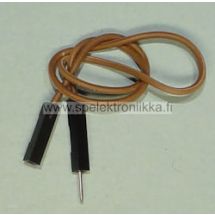 Tuote 114885. Moninapaliittimistä tehty hyppylanka jumpperipiuha uros/naaras 20cm. Johdon väri satunnaisesti mitä sattuu. Koekytkentälevyihin jne ... Hyppylanka koekytkentälevylle.
Tuote 108134. Tantaalikondensattori 0.47uF / 35V pysty.
!!! Jälleen varastossa !!!
Tuote 107646. Chromatic tuning meter clip model with InTune touch screen. Turns on automatically when you put it on the blade and turns off when you remove it from the...