Vihreä 3 mm LED diffusoitu 1000kpl
Main Page > Electronic components etc ... > LEDs, LED News, Accessories ...
Tuote 110846. Vihreä 3 mm LED diffusoitu 1000kpl. "Tavallinen" diffusoitu 3 mm LED, vihreä. Kuva suuntaa-antava.
See also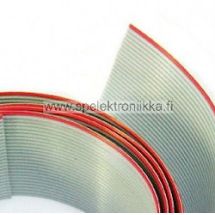 Tuote 107800. Nauhakaapeli lattakaapeli r. 1.27 mm harmaa 16 napainen.
Product STC241419. Servo servomotor SG90 or similar weight approx. 10g angle 180 degrees Tower Pro Clone. NOT GENUINE, otherwise the same size and promises the same, but...
Tuote SDG24538. Digitaalinen voimakas servo MG996R 180 astetta. Metallihampaat / muovihampaat. Viimeinen hammas metallia. Servo 4.8V - 6.0V, paino n. 50 g. Output torque...
Tuote SCP20900. IC piirin kanta 16 napainen jousikanta. Kuva suuntaa-antava.
Tuote 109404. PN2222 P2N2222A  TO-92 2N2222A TO-92 kotelossa.
Tuote 113358. 74HC595 piiri DIP jalallinen 8-bit shift registers with output latches, three-state parallel outputs.
Tuote 114216. Liukukytkin 1 x ON - ON 5 mm x 5.5 mm x 10.5 mm juotoskorvat. Kiinnikkeiden päästä mitattuna n. 19.7 mm, reiät n. 2.4 mm. Nupin korkeus mekaniikasta n. 5...