Peukaloplektra metallia, one size fits all
Main Page > Accessories for music > Guitar pick's
Tuote 109271. Metallinen peukalopllektra. One size fits all.
See also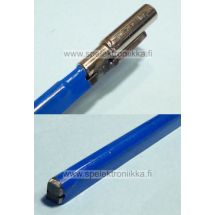 One of our best sellers in truss rods !!!
Tällä DC-haaroittimella voidaan kytkeä kaksi kameraa / laitetta yhteen virtalähteeseen / muuntajaan.
Tuote 102924. OL® Humbucker ZHC3N, overwound, neck, zebra. Keraamiset magneetit. Sarjaan käämityt mikit, kaikki johdot esillä. Muovikehys...
Tuote 103407. GST310DBR. Tummanruskea topattu monikerroshihna, keinonahkaa. Leveys 80mm, paksuus 8mm, pituus säädettävissä 115cm - 135cm. Mitat noin mittoja. Padded...
Tuote 107636. Otelauta-aihio kitara eben juovakuvio, with stripes. Koko n. 530 x 70 x 9 mm. Rajattu saatavuus, ebenpuuta jonka luonto on värjännyt poikkeuksellisin värein...
Tuote 109088. Dobron (resonaattorikitara) kielet. Martin, Gauges 16-18-26-36-46-56.
Tuote 104546. Jälkivalaiseva otelaudan sivumerkki BLANK. Noin 3mm ulkohalkaisijaltaan olevat jälkivalaisevat sivumerkkiaihiot. Pituudet n. 20cm, ulkopinnat...
Tuote 108950. Slide putki "pullonkaula" pyrex lasia 15x20x65mm. Ohutsormiselle soittajalle.
Tuote 114525. Kaulan kiinnitysruuvin holkki, kromi KAUHO1421CR, kromi, kauloihin missä ei haluta tai ei voi käyttää levyä. Neck mounting ferrule. Ulkohalkaisija n. 14...