Tuuletin 12VDC Sunon 80 x 80 x 25 VAPO
Main Page > Electronic components etc ... > Solenoidit, sähkömagneetit, moottorit .. > Tuulettimet, puhaltimet
Tuote 108991. Tuuletin 12VDC Sunon 80 x 80 x 25 VAPO. Melu 20.4dB A painotuksella, teho 40.39 m3/h.
Technical description
Weight 0.100 kg
Dimensions 92 x 92 x 25 mm
Impeller material Glass-fiber reinforced PA plastic
Housing material Glass-fiber reinforced PBT plastic
Airflow direction Exhaust over struts
Direction of rotation Counterclockwise, viewed toward rotor
Storage Ball bearing
Service life L10 at 40 °C 70000 h
Service life L10 at maximum temperature 35000 h
Cable Leads AWG 24, TR 64, stripped and tin-plated.
Motor protection Protection against reverse polarity and blocked rotor.
Approval VDE, CSA, UL
Option Speed signal, alarm signal
See also
Tuote 101069. Kytkentäjohto asennusjohto kaiutinjohto 100m punamusta (CCA) 2 x 0.22 mm². Oivallinen myös virtakaapeliksi LED asennuksiin ja monenlaisiin sovelluksiin. Tuotekuva...
Tällä DC-haaroittimella voidaan kytkeä kaksi kameraa / laitetta yhteen virtalähteeseen / muuntajaan.
Tuote 108986. DC liitin jatko liitin johtoon 2.1mm / 5.5 mm.
Tuote 109179. DC pistoke -liitin DC plugi 2.1 mm / 5.5 mm / metalliosa 9 mm.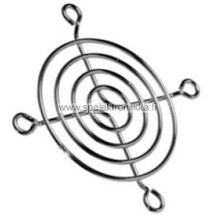 Tuote 103979. Tuulettimen sormisuoja, suojaritilä, kiiltävä 80 x 80 mm.