Läpinäkyvä liimapintainen pleksi kitaraan ADHESIVE CLEAR
Main Page > Parts for musical instruments > Machineheads and other parts OL / SPG / Boston > Pickguard materials for acoustic guitars etc ...
Tuote 103261. Ohut, taipuisa, liimapintainen läpinäkyvä pleksilevy. Esim. akustiselle kitaralle. Plastic pickguard sheet, clear, adhesive backing. n. 200 mm x 250 mm x 0.3 mm.
Pleksin pinnalla vaalea varastointi suojakalvo. Liimapuolella myös suojakalvo. Todellisuudessa näkyy läpi hyvin.
See also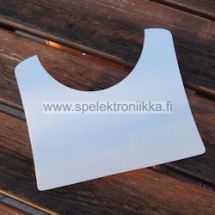 Tuote 115159. FLAMENCO B plektrasuoja (faceguard) 1 -osainen, ohut, taipuisa läpinäkyvä "pleksilevy" limapinnalla, flameco tyyliä esim. westernkitaraan. Pickguard pair, flamenco...
Tuote 102969. Muovisatula musta 42 mm, 6 -kielinen kitara G6SATUB. Plastic pre slotted saddle to 6 -string guitar. Width 42 mm, thickness 3.5 mm, max. height 5.5mm (1.65x0.138x0.217").
Tuote 104663. Klassisen (nylonkielisen) kitaran virityskoneisto Boston 128982, "3 -rivissä", avoin malli. Setissä virityskoneistot 1L ja 1R + ruuvit. Valkoisilla muovinupeilla...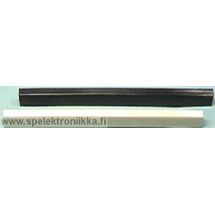 Tuote 103001. Satula-aihio muovia, viistetty ja hieman muotoiltu. Blank plastic saddle, slightly taper towards top. Width 108.50 mm, thickness from bottom 5.9 mm...
Tuote 102214. Virityskoneiston nuppi muovi musta SPARE1012 21 x 13 mm. Muovia, musta. Asennus lämmittämällä. Warming reguired. Push on.
Tuote 101334. Siirtokuvakalvo etulevykalvo mustesuihkusiirtokalvo decal kalvot n. 213 x 280 mm "Amerikkalaisten A4". USA !!! HUOM !!! Nämä koot poistuvat kun loppuvat, tilalle...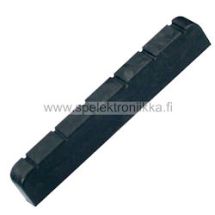 Tuote 102979. Grafiittisatula 6 -kieliselle kitaralle. Graphite pre slotted saddle to 6 -string guitar. Suora ja viistottu, straight and oblique,
52mm x...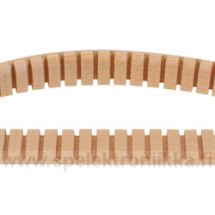 Tuote 102278. Kerfed lining, akustisen kitaran lovettu tukirima toisen puolen päät pyöristetty.
720 x 5 x 19mm.
Tuote 102137. Gotoh® virityskoneisto SE700-06M
"Open Frame", Waverly -style vintage kuusikieliselle kitaralle 3L/3R. Välitys 15:1. Machinehead set, vintage...