Trussiraudan peitelevy " Jackson " malli, black 1ply
Main Page > Parts for musical instruments > Machineheads and other parts OL / SPG / Boston > Trussrods
Tuote 109792. Trussiraudan peitelevy " Jackson " malli, black 1ply. Trussrod cover, black, plastic. Paksuus n. 1.4 mm, n. 32.8 x 14.0 x 43.6 mm. Suojakalvo.
See also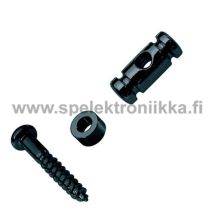 Tuote 105329. Kieltenohjain SH8BLK, musta. Kieltenohjain lieriö. String retainer cylinder. SH8BLK height bottom 2.5 mm, top 4.1 mm, stringspread 7 mm. Ruuvi mukana. Musta...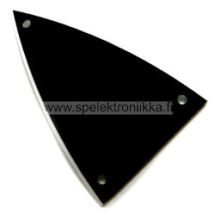 Tuote 109592. Trussiraudan peitelevy " Hainevä " malli, black / white 2ply. Truss rod cover, black/white, plastic. Hosco. Paksuus n. 1.6 mm, n. 37.2 x 55.7 mm. Asennus...
Tuote 109420. Vibratallan kampi TRKA29CR arm dia. 6.00 mm, kromi ei nuppia. Kammen halkaisija 6mm kierre 6mm. Boston Musical Products.
Tuote 114726. Hihnalukko Schaller 14010401 Black Chrome pari. The Original! Ingenious design, superb materials and outstanding quality define our worldwide market leader. For...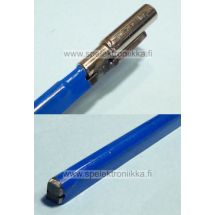 One of our best sellers in truss rods !!!
Tuote 107035. Stereopotentiometri 10 kohm logaritminen, metallia. Booritettu akseli 6mm, tehonkesto 50mW, akselin pituus n. 13.5mm, rungon halkaisija n. 17mm x 12mm, kierrepituus...
Tuote 101804. Vedenpitävä pyöröliitin IP68 suojaus. 3 -napainen uros. 250VAC rms / 13A. Tinattavat kontaktit, piikin halkaisija 1.6 mm, kontakteissa kultapinnoitus. Maksimi...
Tuote 111151. OPA2134 Dual High Performance Audio OA DIP-8. DIP-8. OPA 2134.
Tuote 104048. Puolipallokanta musta millikierre 2532BKMR. 2.5 x 32 mm, metric, BK, round. Soitinrakentelussa käytettäviä ruuveja. Mounting...