Truss rod bar model 6.25mm, 4mm allen nut, UNF-10-32 thread, 425mm
Main Page > Parts for musical instruments > Machineheads and other parts OL / SPG / Boston > Trussrods
Tuote 113916. Truss rod bar model 6.25mm, 4mm allen nut, UNF-10-32 thread, 425mm.
Trussirauta, kaularauta TRU425K, yksitoiminen, 4 mm kuusiokanta. UNF-10-32 kierre. Mitat päästä päähän, pituus voi vaihdella 1 - 2 cm. Tilantarve n. 6.25 x 9 mm. Boston Musical Products, kuulunut valikoimiimme vuosikausia.
Tuotteissa varastointirasvaa kannattaa pyyhkiä pois ennen asennusta ettei sotke puita.
See also
Tuote 102788. Otelautanauha, fret wire, FRETWIRE20H. Nickel / Silver = (German Silver, Paktong, New Silver). Toimitetaan n. 40 cm pätkissä. FRETWIRE20H kovuus HV200, korkeus...
Shielded hotrail cable for guitar pickups and many other applications.
Tuote 103377. Otelautanauha, ruostumaton teräs (stainless steel frets). Todella laadukasta ja mittatarkkaa Sintoms Ltd terästä. Likipitäen...
Tuote 109756. Muovisatula Hollow Body Style BLACK, 6 -kielinen. Yläpinta kaareva, alapinta suora. Leveys 42 mm, maksimikorkeus 9.2 mm.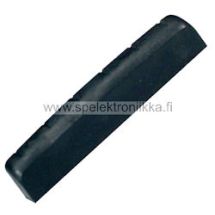 Tuote 102980. Grafiittisatula 6 -kieliselle kitaralle. Graphite pre slotted saddle to 6 -string guitar.
Kaareva ja loivasti viistottu, curved...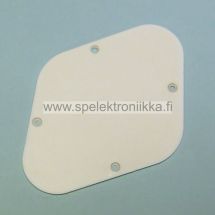 Tuote 109243. LP -tyylisten kitaroiden elektroniikan taustalevy White. Vinoneliö pleksilevy joka tyypillisesti suojaa kitaran elektroniikkaa taustapuolella. Varastoiden kätköistä, hyvä peitelevy...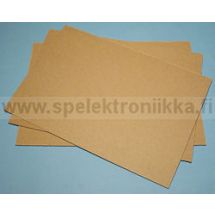 Tuote 102182. Ruskeat millikoon prespaanilevyt ("fiiberilevy") 210 x 300mm kitaramikrofonien rakenteluun. Prespaania on kohtuullisen helppo leikata ja sen sähköneristyskyky on...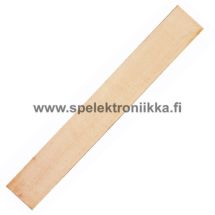 Tuote STL20396. Ylikoon Otelauta-aihio Sycamore sähkökitaralle. Koko n. 530 x 75 x 9 mm. Erittäin vaalea puulaatu aika paljon vaahteran oloinen. Ilmoitetut mitat ovat...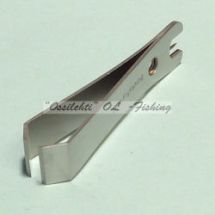 Tuote 110498. Siimaleikkuri RST, kirkas, piikillä TFH®. Terien ulkonevan muotoilun ansiosta näet helposti mitä leikkaat. Enää ei tarvitse katkoa puukolla siimaa poikki...