Viritysmittari BTU-150 klipsiviritin kromaattinen selkeä värinäyttö automaattinen, ei napin nappia ...
Main Page > Accessories for music > Guitar tuners
Tuote 110102. Viritysmittari kromaattinen automaattinen, ei napin nappia ... BTU-150. Pitkälti samanlainen käyttää kuin Cherub WST-630G, mutta tässä näyttö pystyasenossa.
BTU-150 tunerin lyhyt oppimäärä
Kromaattinen erittäin monipuolinen viritysmittari, kiinnitetään lapaan jne... kohtaan missä ääni johtuu parhaiten tuneriin. Sisäänrakennettu johtumisanturi, (johtumisanturi on tunteeton ympäröiville äänille). Taustavalaistu. LCD -näyttö. Englanninkielinen käyttöohje. Chromatic clip tuner, with multi colour display, auto power on/off. The BTU-150 turns on automatically when clipped on the headstock, and switches off when you remove it. When your instrument is in tune, the backlit turns GREEN. When it is sharp, the backlit turns RED. The BTU-150 tuner will switch off automatically when not used for 5 minutes. Built-in piezo sensor for accurate tuning. Tuning range:A0(27.5Hz)~C8(4186Hz) Tuning mode: Chromatic Tuning precision:±1cent A4 range:440Hz Detection method:Clip Tuning mode: Auto Power supply:3V(CR2032)Lithium battery (included) Dimensions:53(W)x35(D)x27(H)mm Weight:21g
See also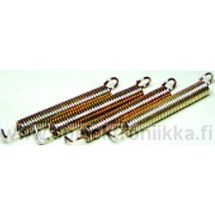 Tuote 102342. Tremolon (vibran) varajouset. Laadukkaat jouset, voimakkuuksia mixaillen saat varmasti oikean tuntuman vibraasi. Korea.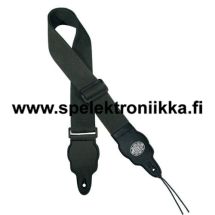 Tuote 103301. Kitarahihna Gaucho GST50BK. Kitaran nylonhihna. Leveys 50mm, pituus säädettävissä 80cm - 140cm. Mitat noin mittoja. Nylon woven guitar strap with faux...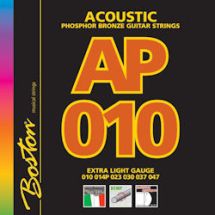 Tuote 101904. Akustisen kitaran teräskielet. String set acoustic, phosphor bronze, extra light, 010-014-023-030-037-047. Neljä punottua kieltä.
Product SPH1622. Belt lock / strap lock with SP1101BK black. Activities like the Schaller and Boston locks. The newest alternative to these styles, therefore, makes the...
Tuote 103651. Sähkökitaran kielisetti Boston 10-46. 010-013-017-026-036-046. Vara 010 ja 013 mukana. String set electric, nickel roundwound, 010-013-017-026-036-046.
Tuote 22723. Instrumenttikaapeli Boston kitarakaapeli 3m 2x suorat kullatut monoplugit. Boston musical products kitarakaapeli (yhdysjohto) 2 x suorat monoplugit. Kullatut...
Tuote 101764. Viritysveivi kieliveivi virityskampi Boston musta muovia sopii myös porakoneeseen ja ruuvinvääntimeen. Ruuvinväännintä käytettäessä vedä veivin...
Tuote 103852. Plektra tortoise, paksuus 0.5 mm 1kpl. Selluloidia. Boston.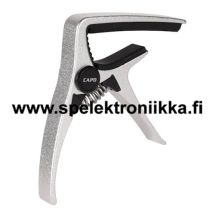 Tuote SCP23053. Capo A & E-01 Fast Silver aluminum for acoustic and electric guitar curved, spring load lock. This Capo sits firmly in place and is quick and easy...