Kromaattinen InTune klipsimallin viritysmittari
Main Page > Accessories for music > Guitar tuners
Tuote 107646. Kromaattinen InTune klipsimallin viritysmittari. Kytkeytyy automaattisesti päälle kun laitat sen lapaan ja kytkeytyy pois päältä kun se irrotetaan lavasta. Näytön väri on vihreä kun soitin on vireessä ja oranssinruskea kun ei ole vireessä. Sisäänrakennettu johtumisanturi. Taustavalaistu. LCD -näyttö. Kitaralle, viululle, kontrabassolle, ukulelelle, mandoliinille jne... Valinnat viulu (V), kromaattinen (C), kitara (G), basso (B). Englanninkielinen käyttöohje. Chromatic clip tuner (also G+B+U+V), with touch screen display, 430-450Hz.
See also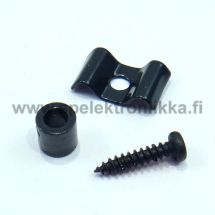 Tuote SKL227189. Kieltenohjain SKL22719BK musta korotus 5 mm. Korotus 5 mm. Korotusholkin halkaisija 5 mm. Kielenpidin n. 7.2 x 12.2 mm.
Tuote 103358. Pleksilevy (plektrasuoja) kerman värinen (cream) LP1CM, LP -tyylisiin kitaroihin. LP -style plastic pickguard. 1Ply. Kuvat suuntaa-antavia, värisävyt eivät...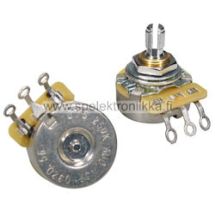 Tuote 115198. CTS USA 24mm vintage tyylin potikka short bushing lyhyt kierre pleksiin 500k log akseli läpi kuoren takaosan tuo vintage ulkonäköä, eli näissä varsi...
Tuote 101919. Vaihtokytkimen nuppi. VIPNUPCM, ivory 3 ja 5 -asentoisten kytkinten nuppi, 3WAY-SW01:lle, 5WAYSW01:lle, sekä OL kytkimille. Millimitoitus.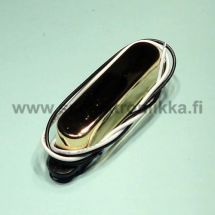 Tuote STC20570. TC -tyylinen yksikelainen ylämikrofoni , MICT-6487. Kromattu metallikuori. Mukana ruuvit ja jouset. Single coil TC -style front pickup with cromeplated metal...
Tuote 105710. Plektrasetti 6 plektraa kitaransoittajalle medium gauge 0.73 celluloid.
Tuote STR23210. Tremolo kelluva talla model 1624 pitch 10.5 musta. Valmis edullinen setti, sisältää kaikki tarvittavat osat. Tremolo (vibra) kuusikieliselle...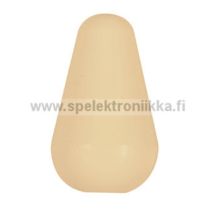 Tuote 101923. Vaihtokytkimen nuppi. LI-390-IN, ivory 3 ja 5 -asentoisten kytkinten nuppi, OAK ja CRL -kytkimille. Tuumakoko.
Tuote 103832. "CTS made in USA", CTS 24mm kitarapotentiometri 500k lin EP4986 / CTS500-B52, aidot CTS -potikat, uritetulla metallivarrella kitarakäyttöön. Tuumajako akselin...