Jaguar -tyylinen kontrollipaneeli JAGUARCTR1
Main Page > Parts for musical instruments > Machineheads and other parts OL / SPG / Boston > Contorl plates jack plates jacks
Tuote 102431. Kontrollipaneeli "Jaguar" -tyylinen, alempi, kromi. Lower control plate "Jaguar" -style, crome. Laadukas, paksusta materiaalista tehty hyvällä pinnoitteella oleva Boston Musical Products kontrollipaneeli.
See also
Tuote 102396. Kieltenohjain, string retainer. Mitat lisätiedoissa.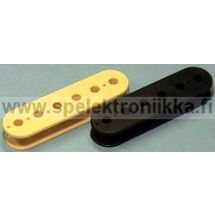 Tuote 102023. Humbuckerin valmiiksi rei'itetyt mikrofonirungot vintagetyylisellä kapenevalla magneettireiällä. Humbucker bobbins...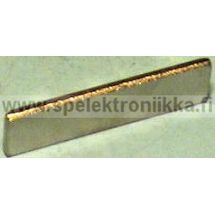 Tuote 113980. Hotrail STEELBAR for GBOB4. Steelbar for GBOB5, 5 x 13 x 74.8mm.
Product 104678. Guitar microphone winding wire, pickup wire AWG43 / 0.055 mm yarn  approx. 25.3g / 1km, approx. 6 kohm / 1km.

One...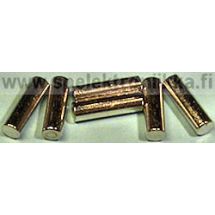 Tuote 102051. Pickup polepiece slug Kromatut teräspalat kitaramikrofoneihin. Kromatut teräspalat kitaramikrofoneihin missä käytetään suorakaidemagneettia mikrofonin alla. Ø 5mm...
Tuote 114698. Pienoisvipukytkin PVK 5, vipukytkin 3 x ON - ON. 125VAC / 2A.
Tuote 109252. TC -tyylinen kontrollipaneeli TELEKPCR kromi. TC -tyylinen kontrollipaneeli. TC -style control plate. Screw holes 4 x flat or oval head, dia. 3.7 mm (0.146"), pot...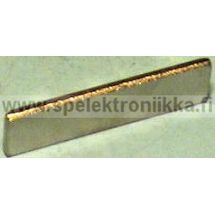 Tuote 102036. Hotrail STEELBAR for GBOB5. Steelbar for GBOB5, 3 x 14 x 53.5mm. When used this, you need two CERA5575 and cut those to length you need, or leave those oversize. GBOB5...
Tuote 102025. Pickup polepiece screw Vintagetyylinen säätöruuvi mikrofoneihin POLESCREW NICKEL. Vintagetyylinen säätöruuvi mikrofonirunkoihin missä on kavennus magneettireiässä, vintage...