ARMREST24 Banjon armrest
Startsidan > Gitarrdelar gitarrtillbehör Instrumentbygge tillbehör > Gitarrdelar gitarrtillbehör OL / SPG / Boston > Banjo Dobro övriga delar OL / SPG / Boston
Tuote 102370. Banjon armrest, niklattu, kaiverruksin. Mukana myös kiinnikeruuvi ja tausta. Armrestissä on 24 -kiinnikkeiseen jakoon sopiva tuki. Siihen saa viilattua juuri ja juuri myös jaon 30 -kiinnikkeistä jakoa varten. Banjo armrest, nickellplated, engraved fits to 24-bracket style banjos, possible to file places to fit in 30-bracket style banjo. Mounting bolt and bar included.
Katso myös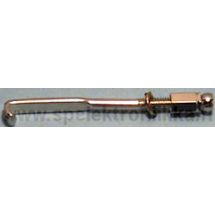 Tuote 102377. Litteä tukikoukku + mutteri. Banjolle. Flat bracket hook + nut. Length 54 mm
(2.13"), metric threads. For banjo.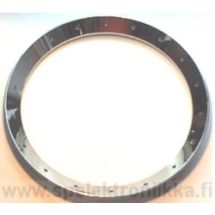 Tuote 102383. 18 -reikäinen flathead tonering. 18 -hole flathead tonering. Outer diameter approx. 279 mm (11"). Height 31 mm, width 20 mm. Inner diameter approx. 239...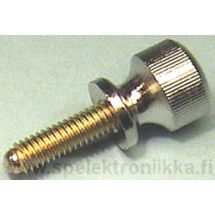 Tuote 102375. Resonaattorin kiinnitysruuvi irrotettavalla kierreosalla. Resonator thumpscrew, threadpart can be detached. 4 mm (0.16") threads.
Tuote 102100. Kromattu Clamsell kielenpidin banjolle.Sekä silmukkapää, että tavallisille kielille. Max. 5 -kielelle. Cromeplated Clamsell banjo tailpiece. For loop-end...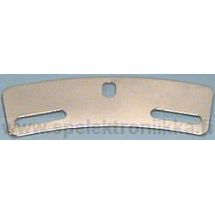 Tuote 102372. Mitat kuten tuotteella 102371, mutta ovaalinreiän keskikohta n. 6.5mm reunasta. Ruuvi mukana. As HBRACKET24, but oval hole approx. 0.25" from edge. Includes...
Tuote 102382. Banjon kalvon jännitysvanne, pyöreille tukikoukuille. Notched tension hoop, for round hooks. Inner diameter approx. 283 mm (11.1" ). Height 14 mm , width...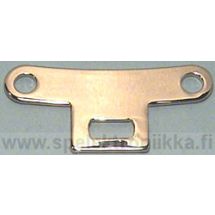 Tuote 102373. T -mallin tallan tuki, reiät tukikoukkujen kiinnitystä varten. Reikäväli 36.5 mm. T -style tailpiece bracket , for attachment two bracket nuts beneath...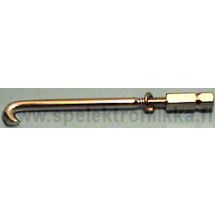 Tuote 102376. Pyöreä tukikoukku + mutteri. Banjolle. Round bracket hook + nut. Length 70 mm
(2.76"), metric threads. For banjo.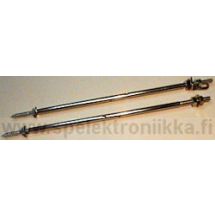 Tuote 102379. Kaksiosainen kehyksen kiinnitystankosarja sisältää tarvittavat mutterit, sekä L -tuen. Dual rim rod set, includes all necessary bolts and one L -bracket. For...