Otelautamerkit "Suomen lipun värit" SETPATRIOTPL
Main Page > Parts for musical instruments > Machineheads and other parts Boston / SPG > Otelautamerkit fretboard dots inlay dots
Tuote 102465. Otelautamerkit Suomen lipun värit, simpukkajäljitemä, 10 -osainen. Liput muodostuvat useasta osasta, joita pitää kiinni asennusteippi. Poista teippi asennuksen jälkeen.Finland flag colours artificial pearl, plastic, 10 pcs/set.
See also
Vintage pushback 18 awg stranded wire !!!
Tuote 114728. Hihnalukko Schaller 14010801 Vintage Copper pari. The Original! Ingenious design, superb materials and outstanding quality define our worldwide market leader. For...
Tuote 103231. Nitroselluloosalakka kitaroille spraypurkki 500 ml, kirkas gloss. Kitaroiden lakkaukseen vintagetyylillä. Nitroselluloosalakka spray purkissa 500...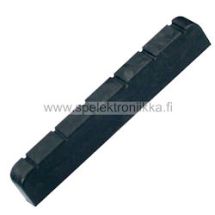 Tuote 102979. Grafiittisatula 6 -kieliselle kitaralle. Graphite pre slotted saddle to 6 -string guitar. Suora ja viistottu, straight and oblique,
52mm x...
Tuote 114640. Rullatalla sähkökitara Schaller 12080100 STM Nikkeli. Mittakuva High-quality bridge for all Les Paul™* type guitars. Compatible with post spacings from...
Tuote 114171. Titebond liima Dark Wood II puuliima 237 ml 8 OZ. Tummille puulajeille tarkoitettu versio Titebond II liimasta. Todella hyvin toimiva puuliima (polyvinyyliasetaatti) ulkokohteisiin...
Tuote 102112. Mandoliini alatalla, eben / galaliitti. Bridge for mandolin, eben / galalith.
Tuote SVR21041. Virityskoneisto 10020823.02.52 Schaller M6 135 19.5 Vintage Copper 3L + 3R Staggered Locking Large button. Gear ratio 1:18. The new M6 is the legend perfected. With...
Tuote 103395. Dozuki saha, terän pituus 240 mm. Terän leveys 0.6 mm. Dozuki saha, ammattikäyttöön tarkkaan sahaukseen. Erittäin siisti jälki. Sahaa käytetään vetämällä. Terän...