Rickenbacker tyylinen kromitalla Boston Musical Products
Main Page > Parts for musical instruments > Machineheads and other parts OL / SPG / Boston > Tailpieces for guitars OL / SPG / Boston
Tuote 109471. Rickenbacker tyylinen kromitalla. Boston Musical Products tai OL Guitar Parts Korea riippuen varastotilanteesta. Kuusioavain mukana.
See also
Tuote 109258. Jakkilevy, suorakaide syvennyksellä JAKLE3CR kromi. Jakkilevy kitaralle. Suorakaide, syvennyksellä. Rectangle jack plate for guitar, recessed. Srew...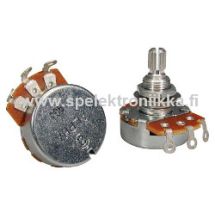 Tuote 114175. ALPHA 24mm kitarapotentiometri bushing 8mm ALP500kA43/log millikoko. HUOM !!! Mukana 2 mutteria + prikka helpottamaan pleksiin asennusta. Merkintä B...
Tuote 104667. 2-way Truss Rod 400 mm TRUSSROD400/2012. At the end of the truss iron there is a 4 mm spruce head, with this solution the outer circumference of the truss...
Tuote 109756. Muovisatula Hollow Body Style BLACK, 6 -kielinen. Yläpinta kaareva, alapinta suora. Leveys 42 mm, maksimikorkeus 9.2 mm.
Tuote 101897. YM-T75, kulmamallin vaihtokytkin Hosco, mahdollistaa asennuksen kapeanpaan runkoon, tukeva mekaniikka. Kolmelle mikrofonille, 3-as. mukana...
Tuote 114558. Wilkinson® WJ44CR DeLuxe vintagemallin kromi koneisto. WJ44CR öklättävän ällöttävän vaalean vintagen vihertävillä muovinupeilla kuten kuuluu ollakkin. Kielen...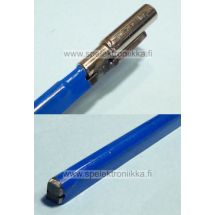 Tuote 113499. Kaularauta 2 -toiminen, n. 460 mm (18") TRUSSROD460/2015. Trussiraudan päässä on sisällä 4 mm kuusio pää, tällä ratkaisulla ei trussiraudan pään...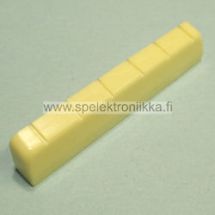 Tuote 102974. Muovisatula luujäljitelmä 6 -kielinen kitara FAKEB3. Kaareva ja loivasti viistottu. Pre slotted plastic saddles, ivory. Curved and slightly tapered towards...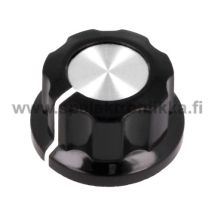 Tuote SPT23206. Potentiometrin nuppi Boss tyylinen n. 13 x 19 mm. Monenlaisissa Mittalaite, virtalähde ym. efektiprojekteissa käytetty nuppi, saa hyvän otteen monikulmaisen...