Hotrail STEELBAR for GBOB5
Startsidan > Gitarrdelar gitarrtillbehör Instrumentbygge tillbehör > Gitarrdelar gitarrtillbehör Boston / SPG > Pickup delar
Tuote 102036. Hotrail STEELBAR for GBOB5. Steelbar for GBOB5, 3 x 14 x 53.5mm. When used this, you need two CERA5575 and cut those to length you need, or leave those oversize. GBOB5 and this steelbar are specially useful with covers SUOJAEMGW / SUOJAEMGB. GBOB5 and this bar fits also in single pickup covers.
Katso myös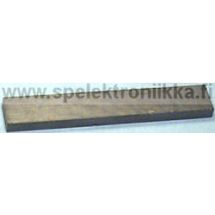 Tuote 102048. Keraaminen suorakaidemagneetti. Käytetään mm. Musicman- ja JB -tyylisten pickuppien rakentelussa. Magnetointi tasopinnoilla. Ceramic...
Tuote 102034. Kelarunko GBOB4 mikrofonin kelarunko. Model 4. Outer dim. h 13 x w 13.8 x L 84.7mm inner dim. h 10.8 x w 6.3 x L 76.5 mm. Space for magnet 5 x 75 mm. GBOB4.
Suojattu kaapeli kitaramikrofoneille. Ohut, oivallinen myös monissa muissa elektroniikan kytkennöissä.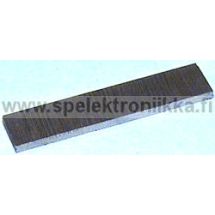 Tuote 102047. Keraaminen suorakaidemagneetti. Käytetään mm. Humbucker mikrofonien rakentelussa. Ceramic guitar pickup magnet, commonly used...
Tuote BAH1012. Bussningar för halsmontering, BAH1012BK, musta, kauloihin missä ei haluta tai ei voi käyttää levyä. Neck mounting ferrule. Ulkohalkaisija n. 14...